The Summer Solstice is upon us: June 21st to be exact. While everyone says that summer officially starts after Memorial Day, many of us subscribe to the passing of the seasons by way of the lunar calendar. With the official start of summer right around the corner, what better way to reign the self-proclaimed "golden" season than with a fresh manicure?
I for one am a big proponent of self-care. For me, the easiest way to alleviate stress quickly is as simple as washing my face or getting my nails done. Everyone is built in their own, gloriously different ways, and while superficial self-care is more of a bandaid than an actual solution to stress management, you can bet my nails are always on point. Oh, and if I'm having an actual breakdown: my gua sha, heatless hair curler and nail file are all working overtime. Just imagine full-on Cassie in "Euphoria" season two vibes.
Your nails are powerful extensions of the self. A tiny but meaningful way to express yourself. The trends are shifting and while warm tones and the lighter side of cool tones are still in, what nail technicians are creating these days may just have the other seasonal trends beat.
We've curated 18 spellbinding nail sets for you to take running to your nail techs.
#18 Gimme Garden Goddess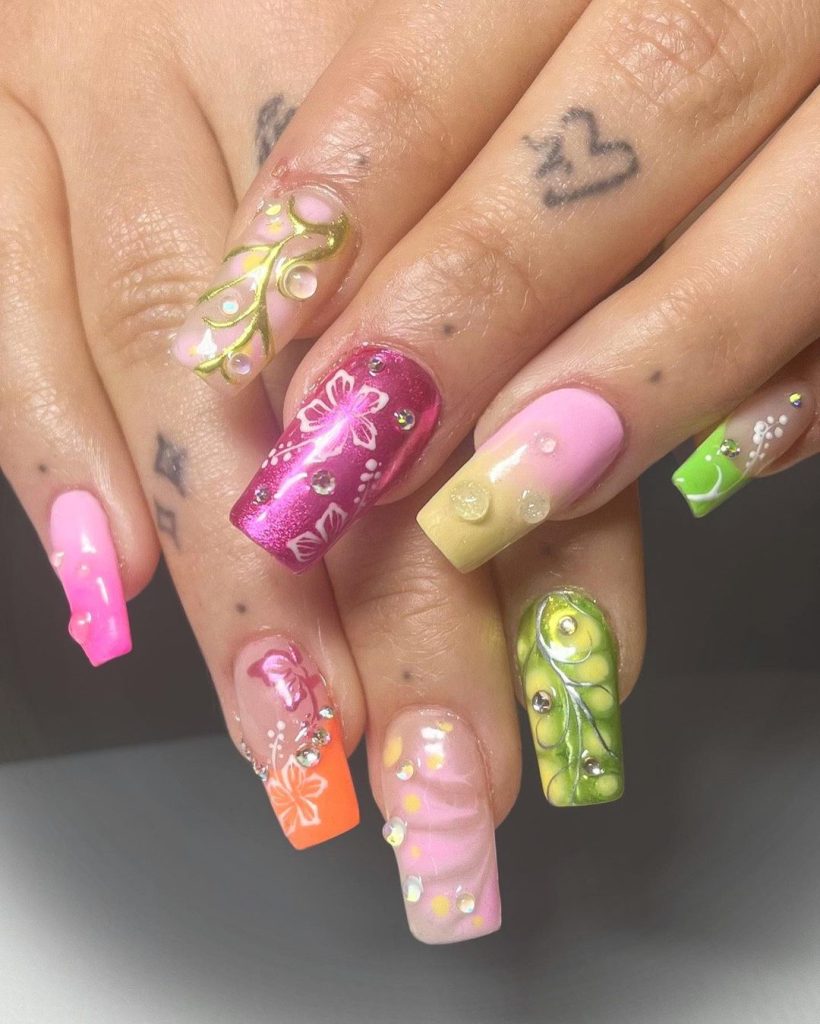 Dripping with texture and 3D dewdrops, I could get lost staring at these nails for hours.
#17 Barbiecore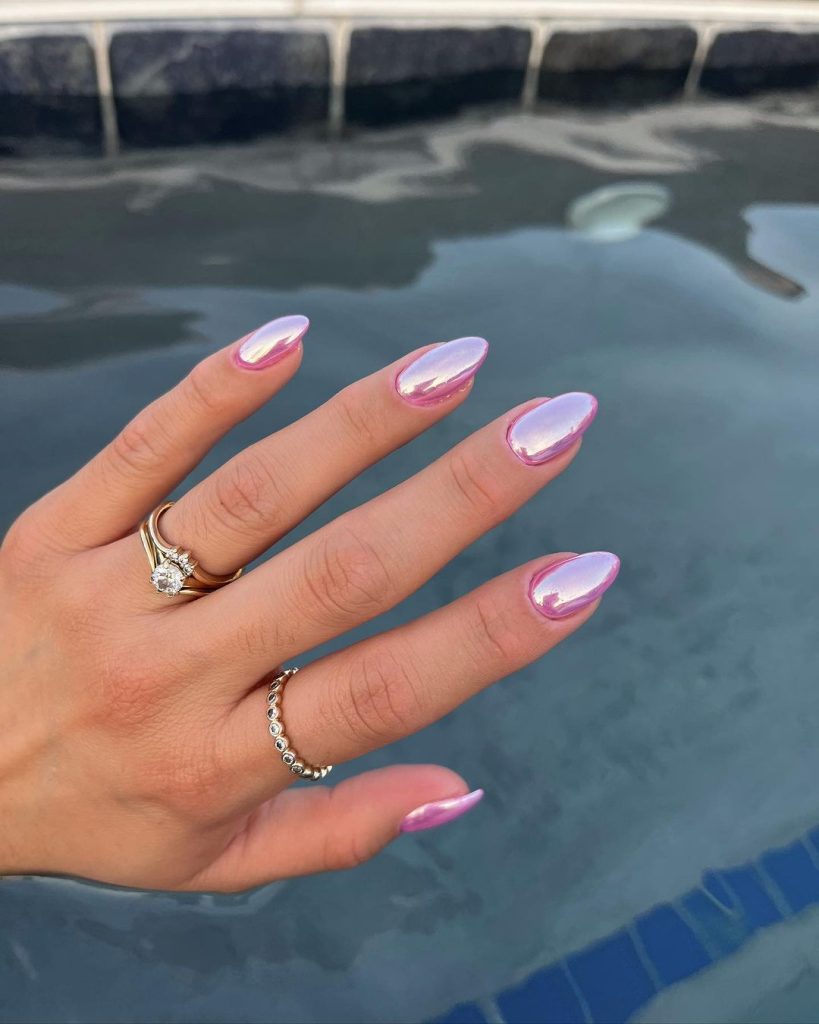 The 60's called, they're mad chrome nails got an upgrade without them. Seriously though, this baby pink little chrome moment is going to be the go to look this summer. Defying the basic light pink manicure by daring to be different with each shift of the light.
#16 Aura Nails But Make it French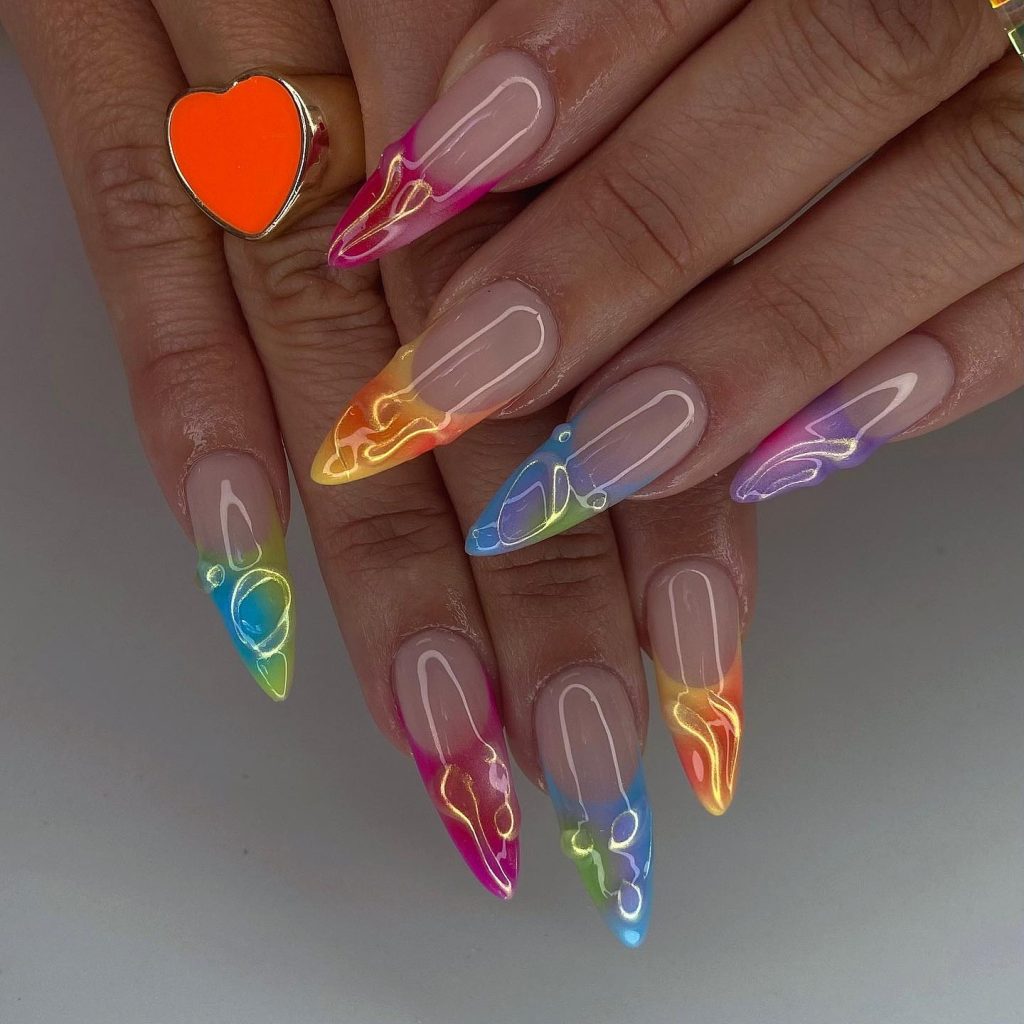 This little spin on the 'aura' trend for manicures, especially combined with the 3D and chrome elements will be huge this summer. The elevated French manicure is on the rise, mark my words.
#15 Dainty Daisies
Claws not your thing? Color not your thing? You're not alone, but who says you can't still have fun with your nails this summer regardless of that? This dainty look will go almost undetected from onlookers, but for those with a keener eye for style will notice this subtle little design and be all over it!
#14 Harvestcore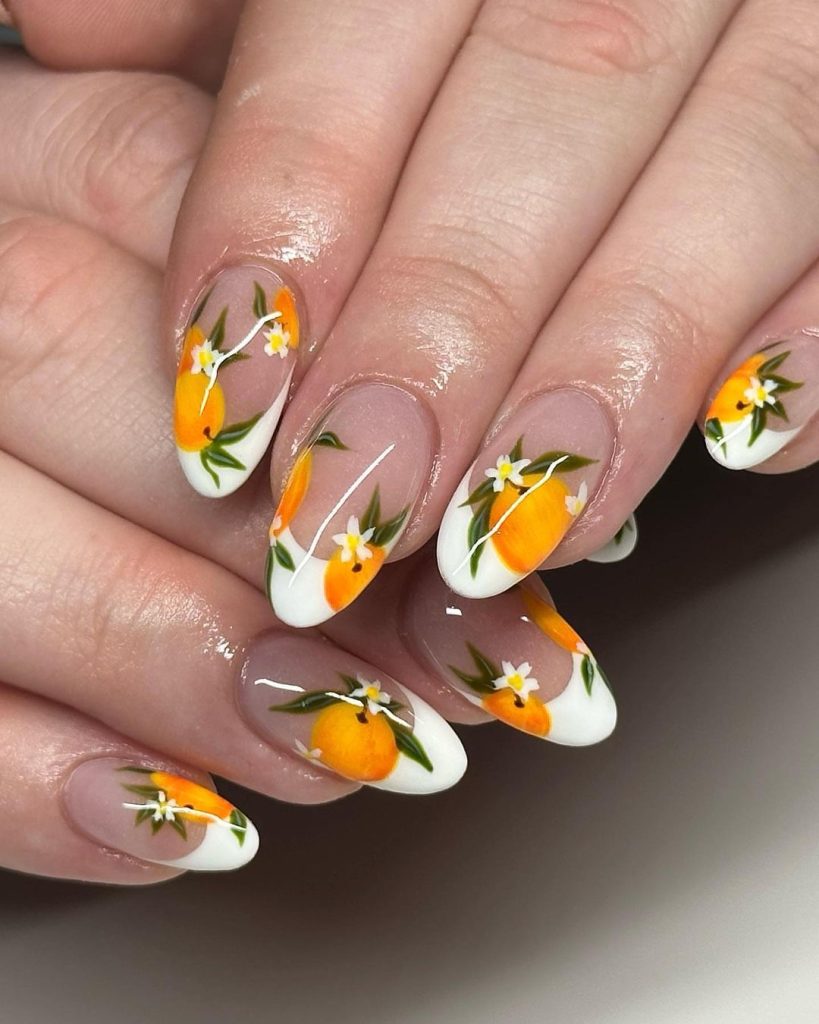 Nothing says summer like fresh fruit, and what better way to rein in the new season by sporting your favorite summer snack?
#13 Futuristic Beetle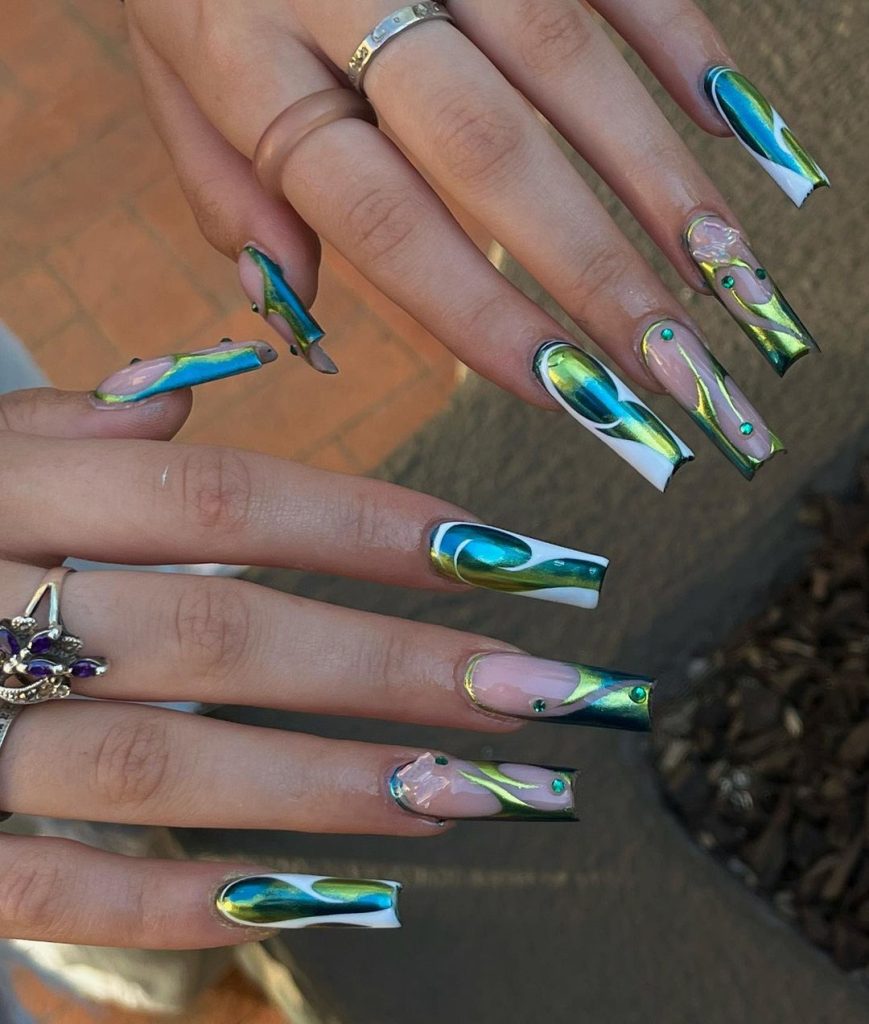 I'm actually obsessed with everything about these chrome green/blue nails. Looking to break free from you go to color palette? I always recommend just going opposite the color wheel!
#12 Museum Quality Art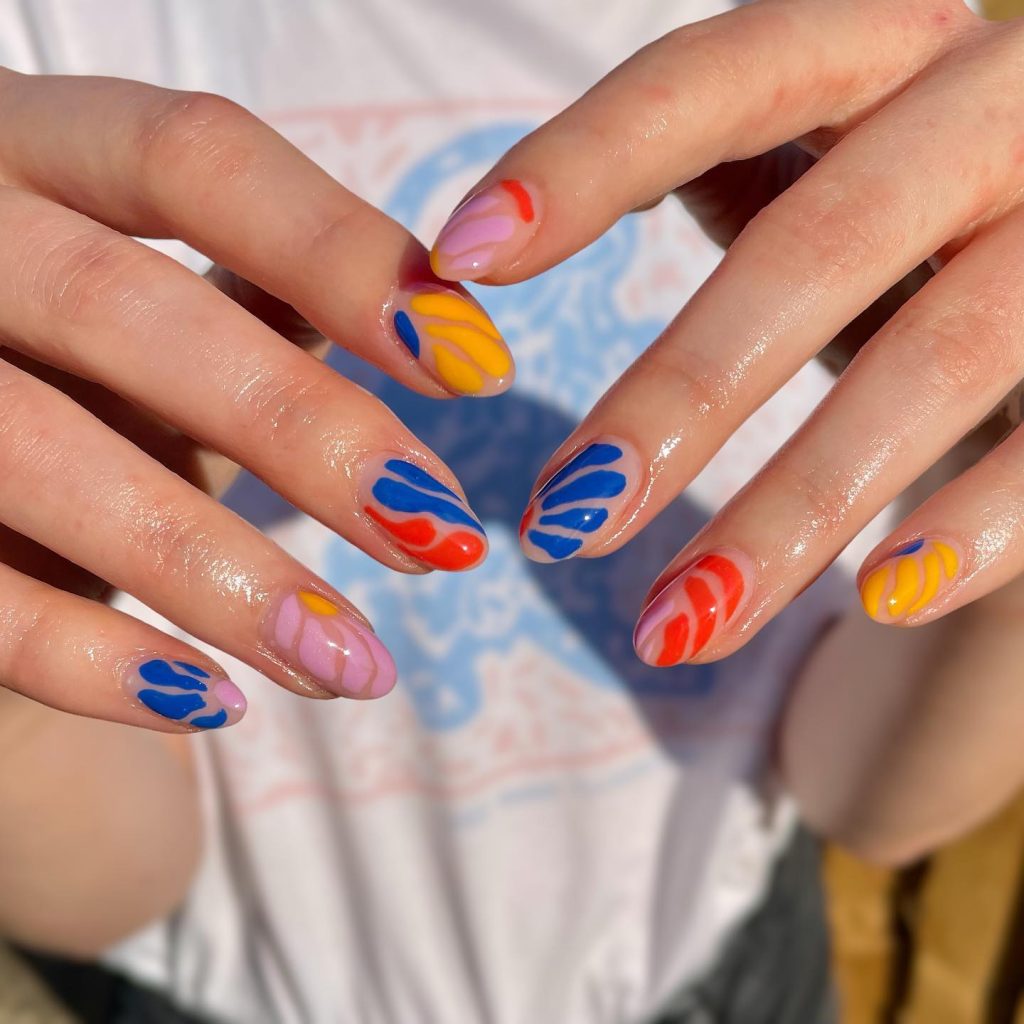 The negative space and use of primary colors is to die for! Ideal for short or long nails, this is a super easy and even DIY way for you to add a little extra something to your nails this summer.
#11 Green With Copious Amounts of Envy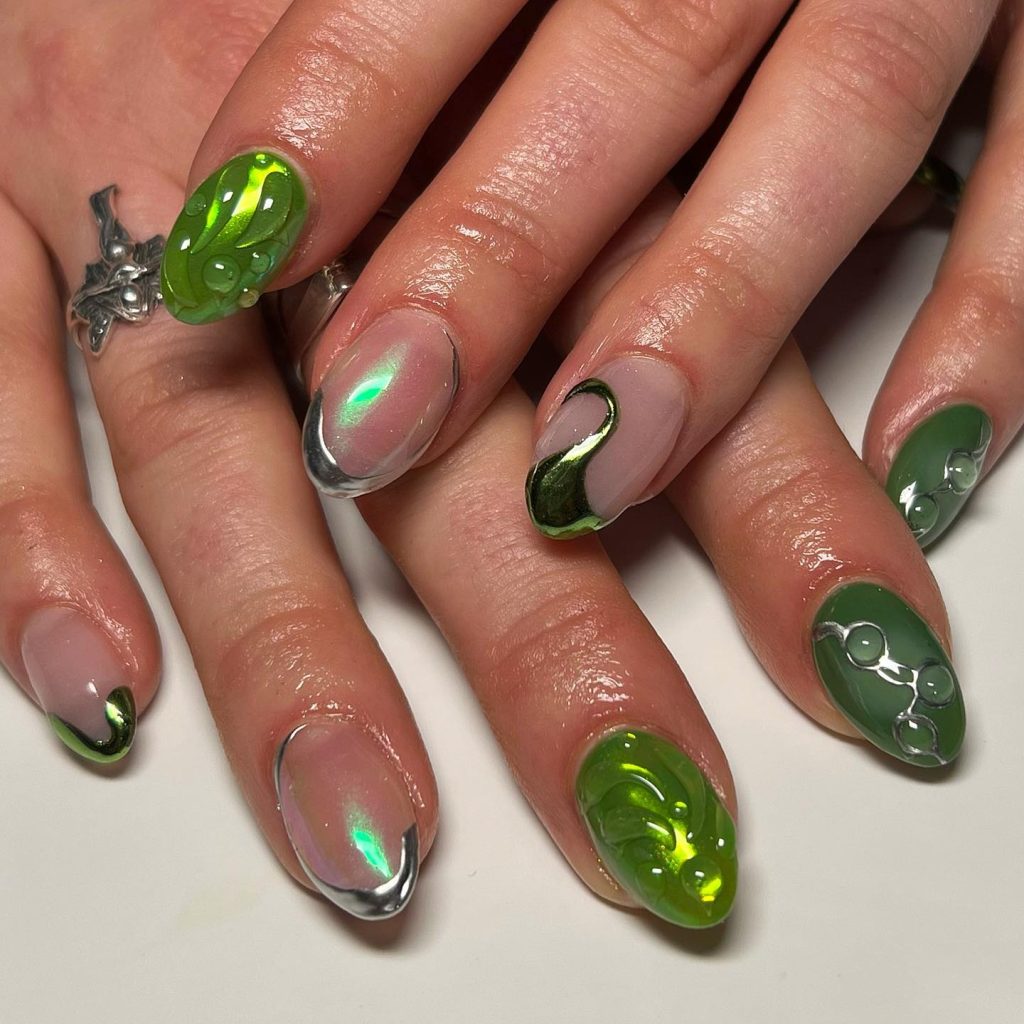 I think I'll just let these nails speak for themselves.
#10 Chrome Accent, Oui?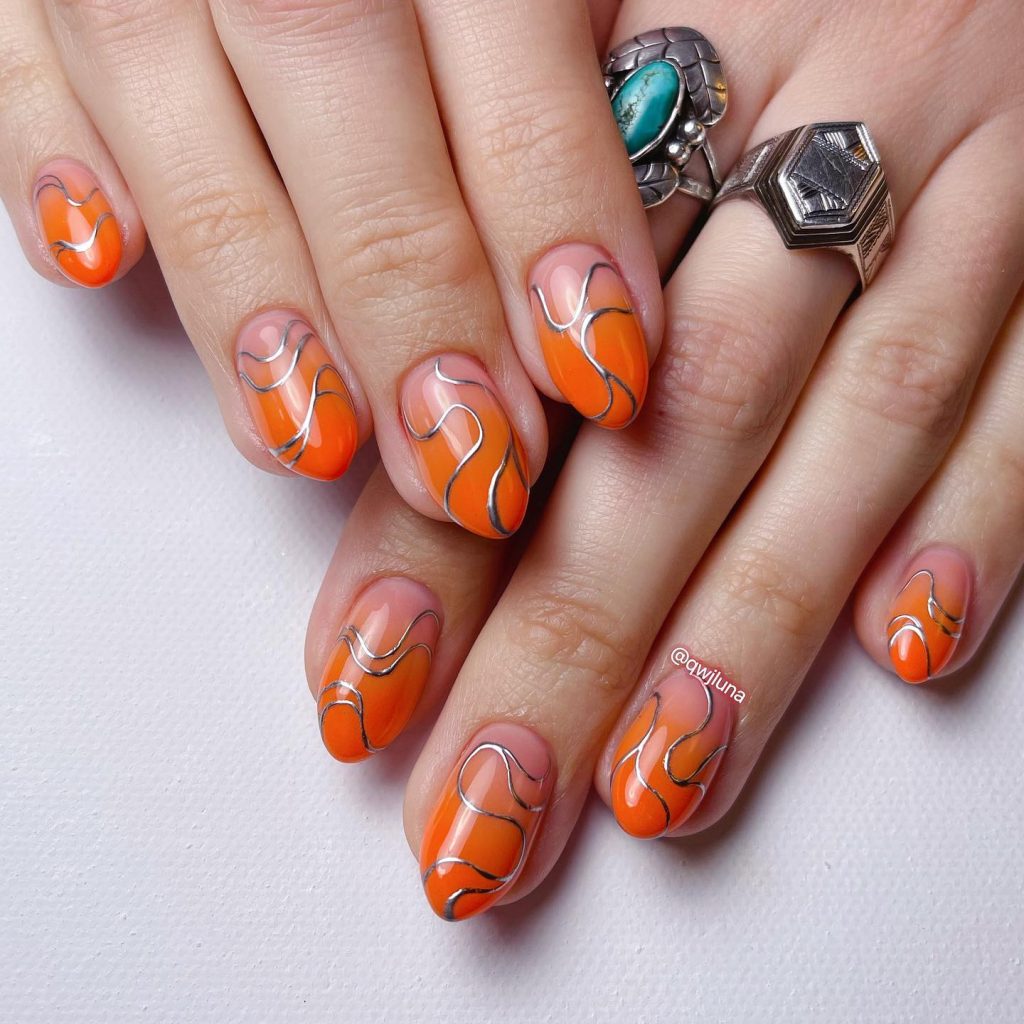 Are you sensing a trend here? If you can find a way to sneak even the subtlest amount of chrome into your nails then you're solid!
#9 Barbie! You're on Fire!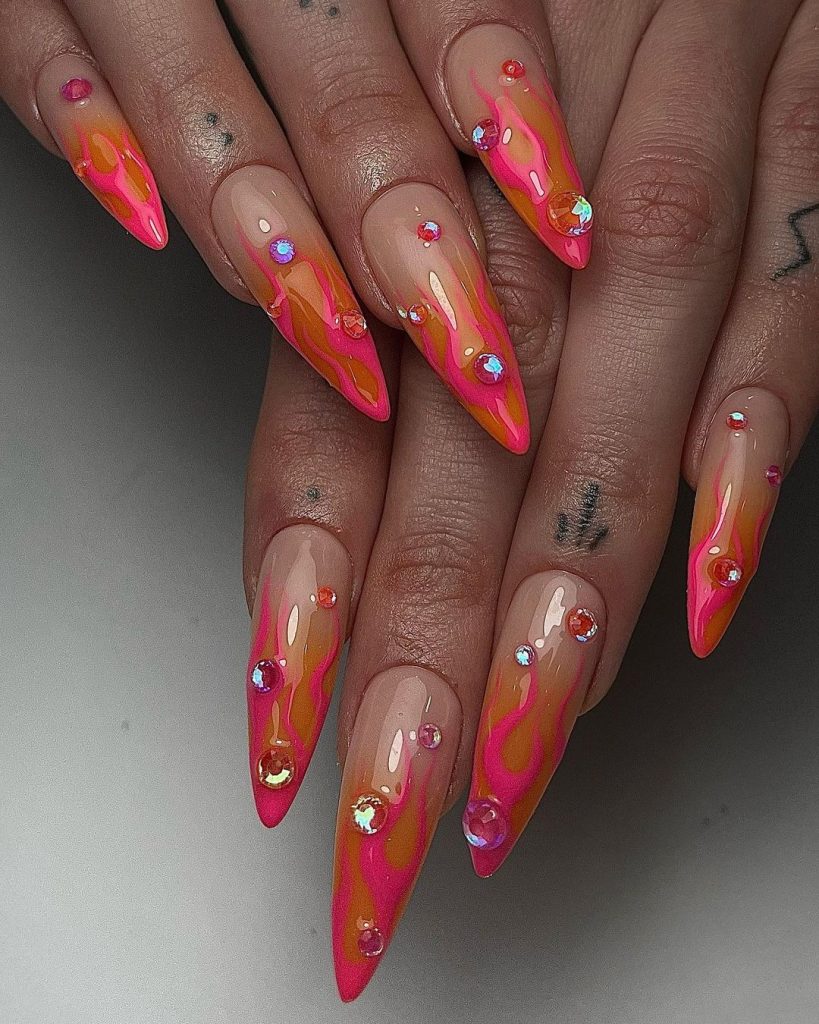 These fire french tips with little bejeweled accents are sure to score you head turns wherever you may go.
#8 Aperol Spritz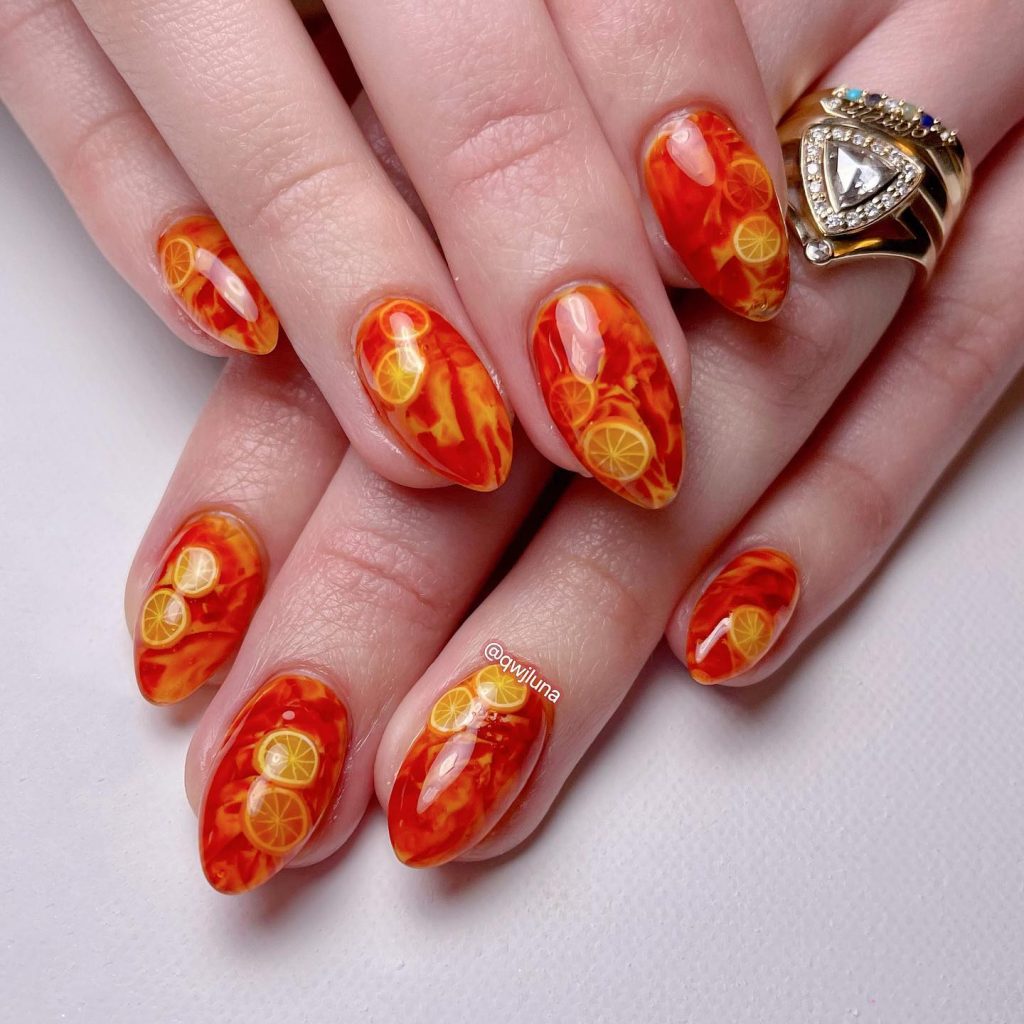 Sorry, these Aperol Spritz nails understood the summer nail set assignment, and even went as far to do their own extra credit (the lemon slices??!!).
#7 Cool Toned Mix n' Match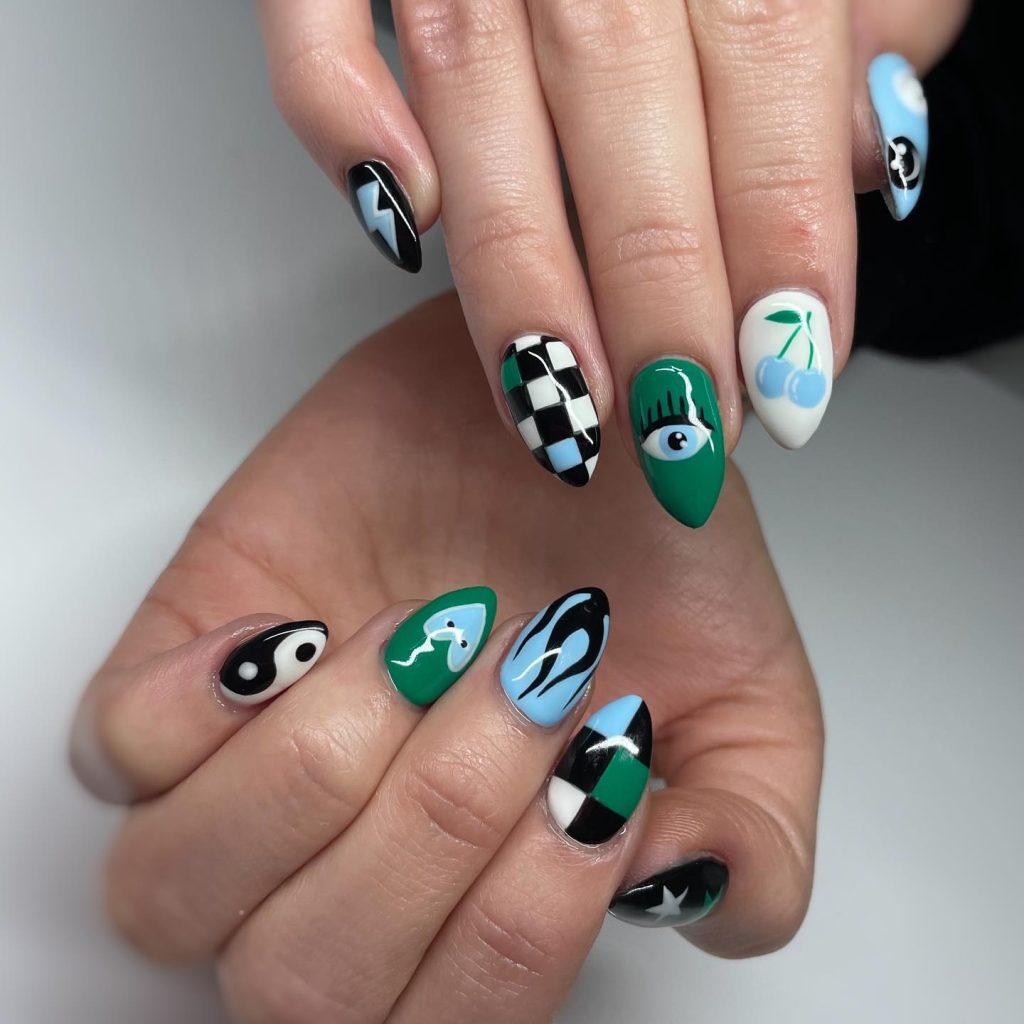 This very Gen Z-core style won't be going anywhere this summer, but maybe some of those pastels and bold warm colors you are used to seeing with be. Opt for a cooler toned palette when getting this soon to be iconic set.
#6 Peek-A-Boo Cuticle!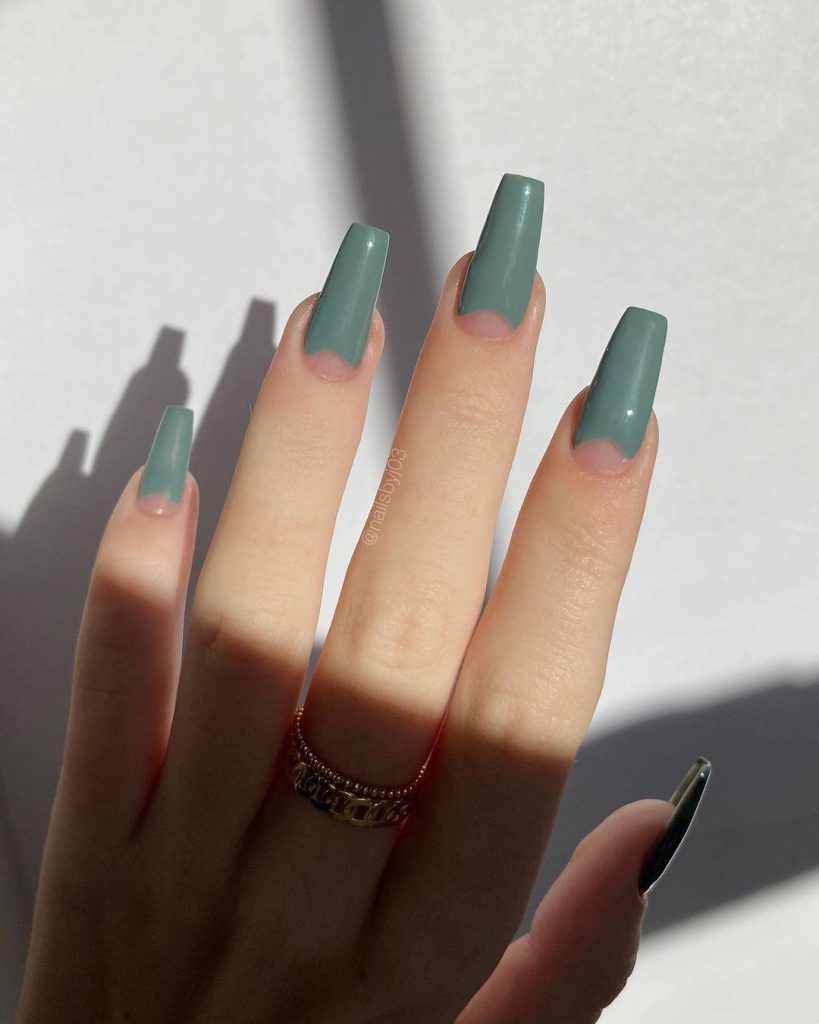 Negative space will always be the "It" Girl when it comes to trend-forward nail designs.
#5 Liquid Gold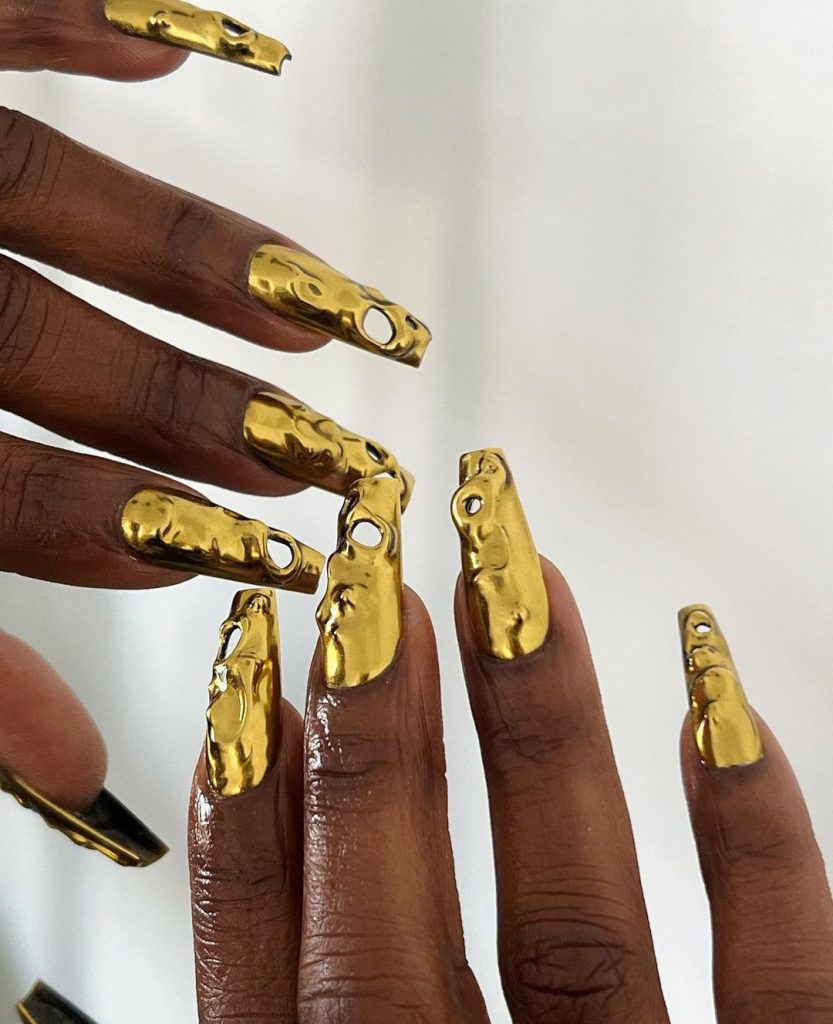 Mark my words, gold chrome-effect nails will be all the rage this summer!
#4 Opulent Decadence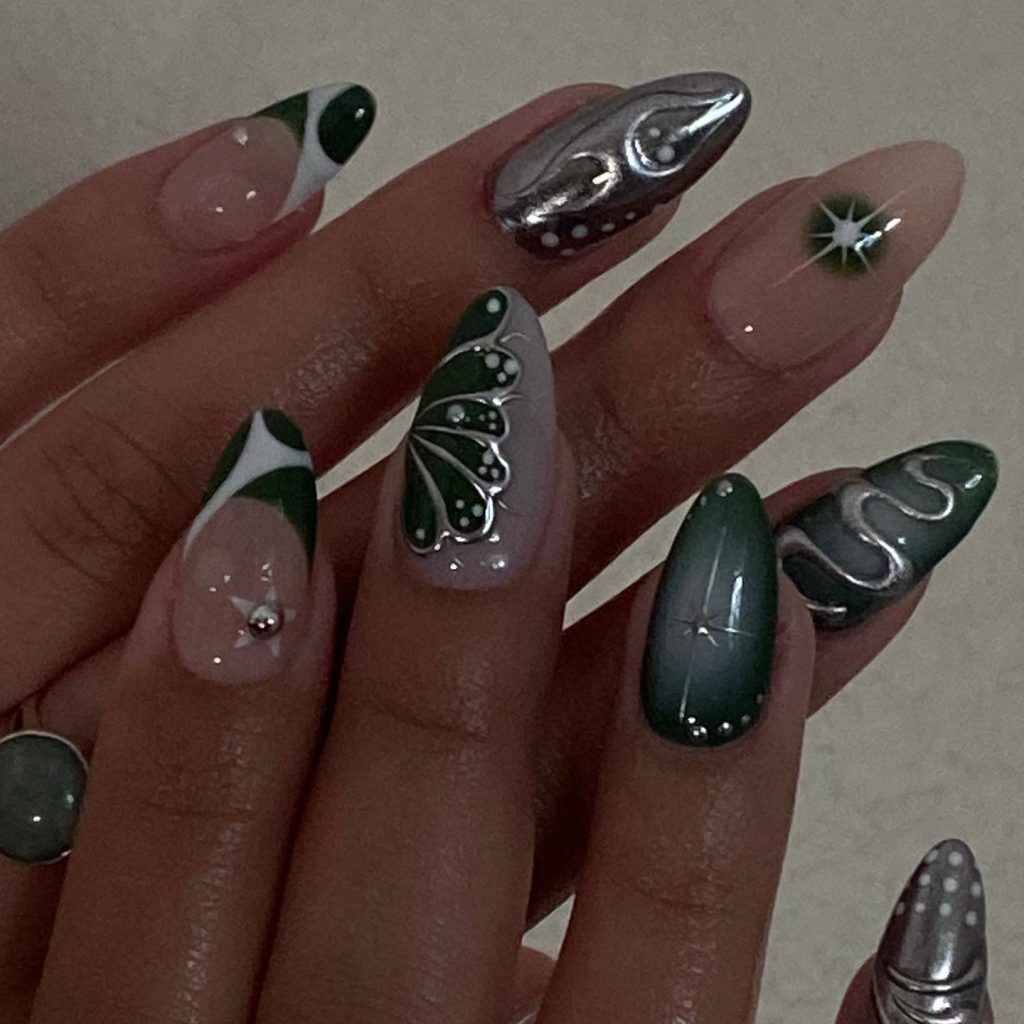 This cool, beachy look screams ethereal deep-sea mermaid.
#3 A Splash of All the Colors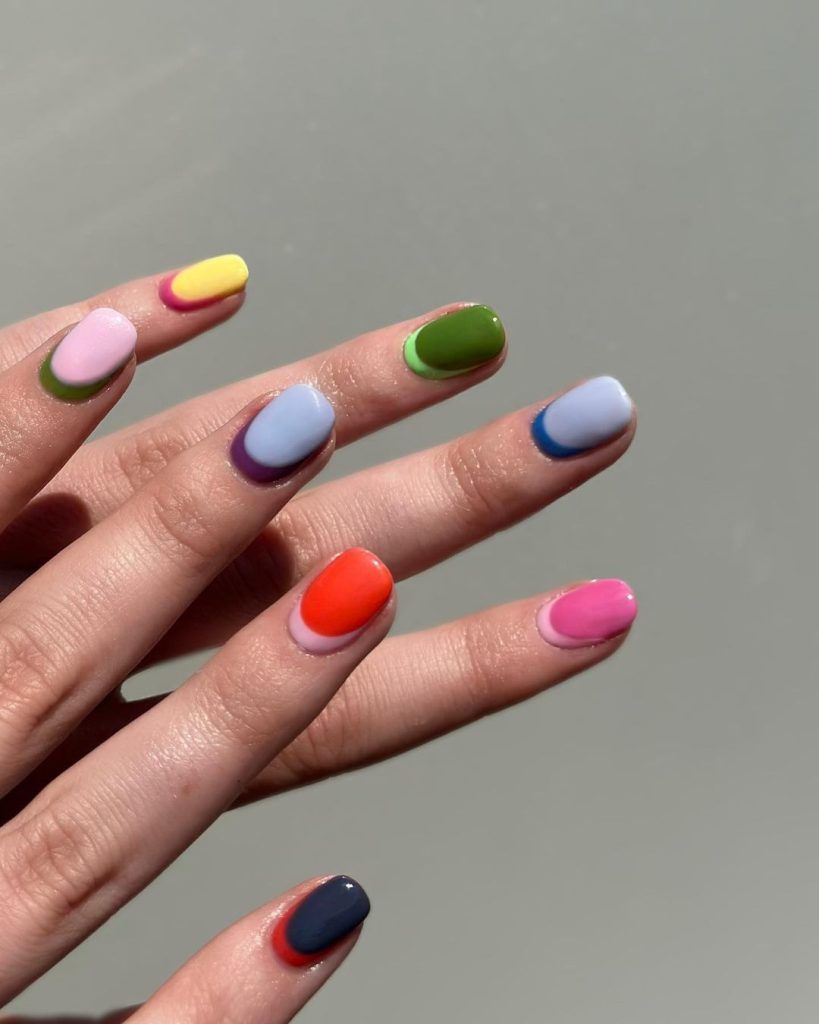 This adorable reverse french will have you fixating on your nails every second of every day.
#2 Aura x Sherbert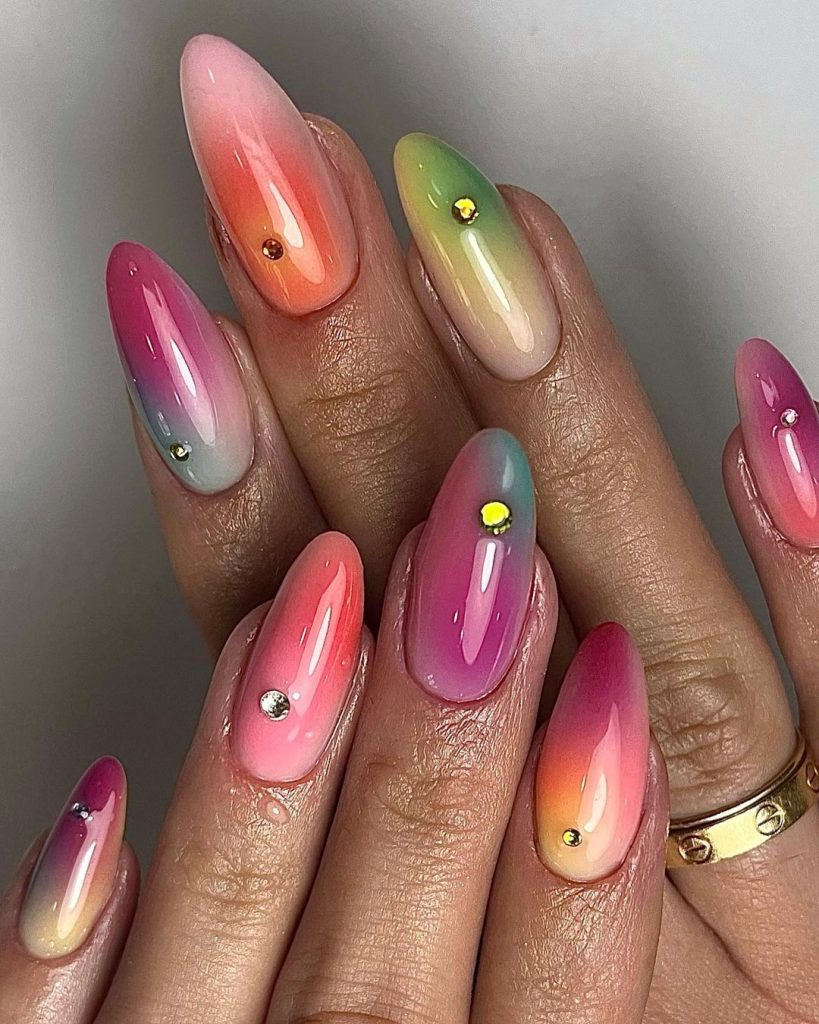 This design is reminiscent of a refreshing favored summer treat and will surely add a whimsical pop of color to your regular manicure.
#1 Glass Blown
Glass blown nails are tracking to be one of the more popular nail trends this summer. Relying heavily on the use of clear builder gel and an opaque color palette, you can finally wear your favorite tiny trinkets on your fingers all summer long!
Hopefully this article was able to provide you with some much needed nail inspiration for the coming summer months. It may be hot and nasty out, but that doesn't mean your nails have to reflect how you feel!