The sun has officially made her glorious emergence from hibernation and with her came the return of flora and fauna alike. However, we can't discuss the rebirth of greenery and serotonin without mentioning the rather scorching nature of spring. While dry skin and seasonal depression take a back seat to good vibes and morning dewdrops, all of my alternative friends may be left wondering how they will possibly carry out their eclectic fashion sense in the coming warmer months.
The fashion transition from winter to spring can be jarring, and uncomfortable, and leave you feeling like an overdressed, sweaty mess. With the proper fabric pairings and calculated amounts of exposed skin, who says you can't maintain your extremely curated, alternative aesthetic during spring?
We've assembled an alt-friendly lookbook for all of our alt friends, to give you some much-needed spring outfit inspiration. The good news is that you won't need to break the bank, as there's no doubt you have many of these items already in your arsenal.
#12 Graphic Tee + Lingerie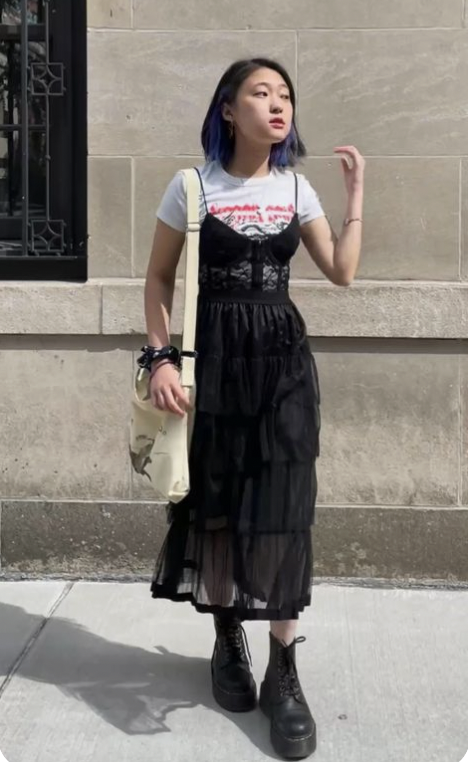 Pair any basic graphic tee under a sheer/lacy black or dark-colored dress of your choice, add some chunky shoes, your favorite tote and you're all set! The aerodynamic nature of the dress will keep you cool without compromising too much of your fashion comfort zone.
#11 Matrix 9-5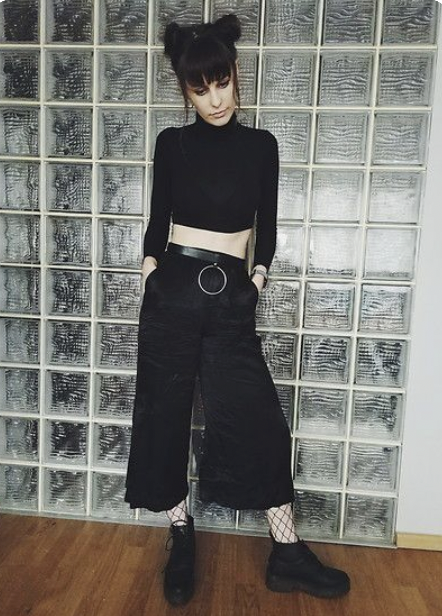 Any pair of black culottes, cropped wide-leg jeans or cropped linen pants will work for this look. Pair with any sort of turtleneck or mock neck top situation (does not need to be long-sleeved) and call it a day! Accessorize with a simple belt and chunky shoes and you're golden.
While assembling just think, "big pants, tiny shirt."
#10 Stevie Knicks Inspired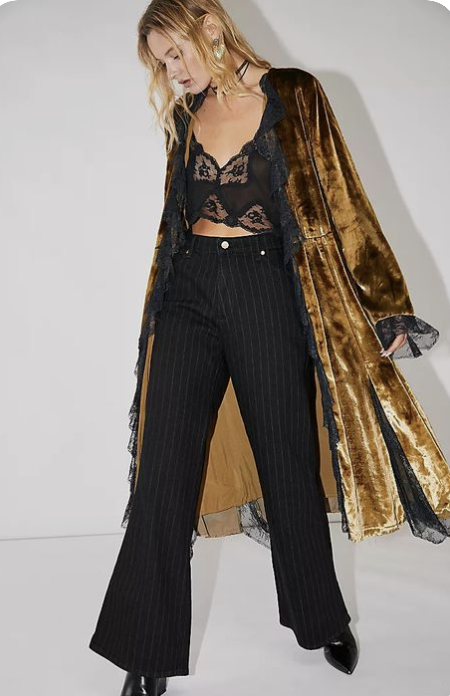 For anyone who likes to dress a little more decadently year-round, this one is for you. Dress up any pair of high-waisted pinstripe or solid-color work slacks with a cute lingerie top, bonus points if it's sheer or lacy. Throw on a jewel-toned but lightweight duster of your choosing and pair it with pointed shoes. The mingling of fabrics and patterns will scratch your chic-alt itch while adding a little spring flair.
#9 Classical Comfort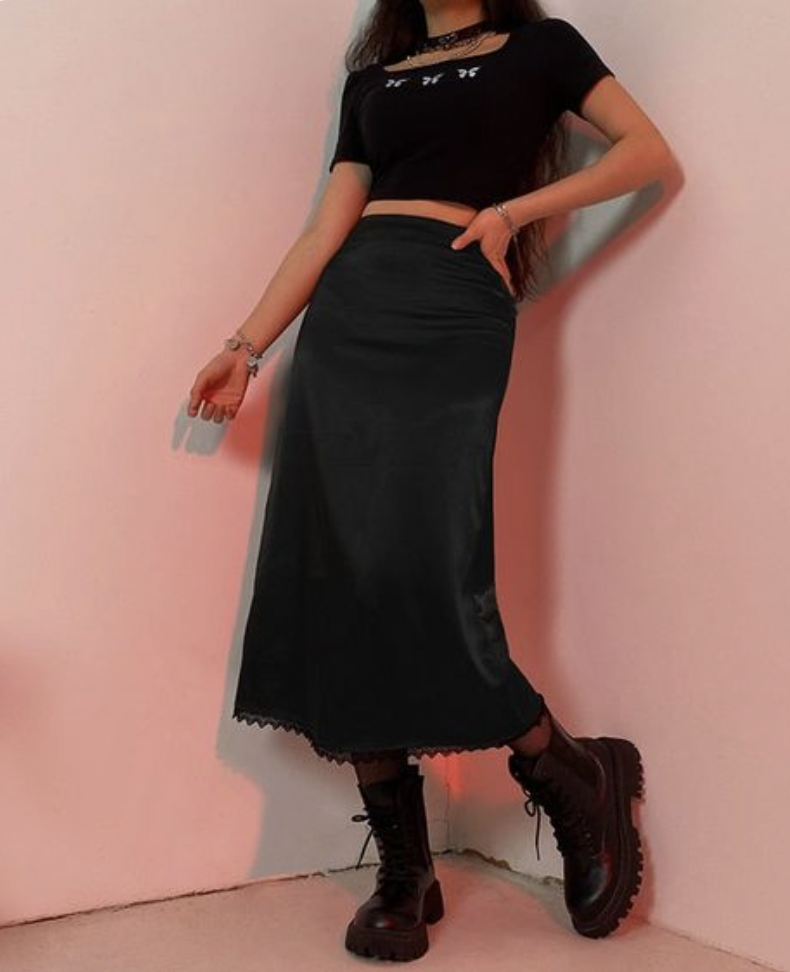 On your more low-effort days, any combination of this outfit is always the move. Match a cropped graphic tee with an A-line, solid-colored skirt and chunky boots. (This mesh maxi skirt from the Inked Shop looks great for this look.) Layer chunky jewelry of your choosing and move on effortlessly with your day. While this outfit is a little basic to some, look at it under the guise of 'timelessly chic.'
#8 This One's Got Layers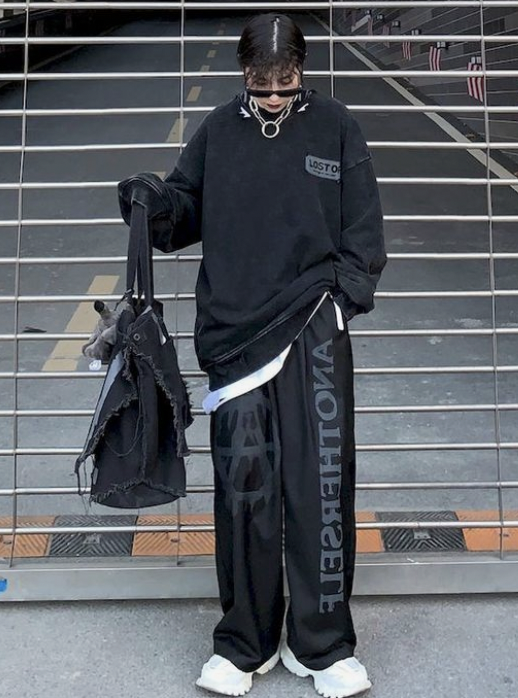 For all my comfort creatures out there, grab your favorite black track pants and pair them with an oversized, naturally distressed crewneck and chunky white sneakers. Accessorize with a casual, oversized black bag, heaps of silver jewelry and micro sunglasses.
#7 Structured Disarray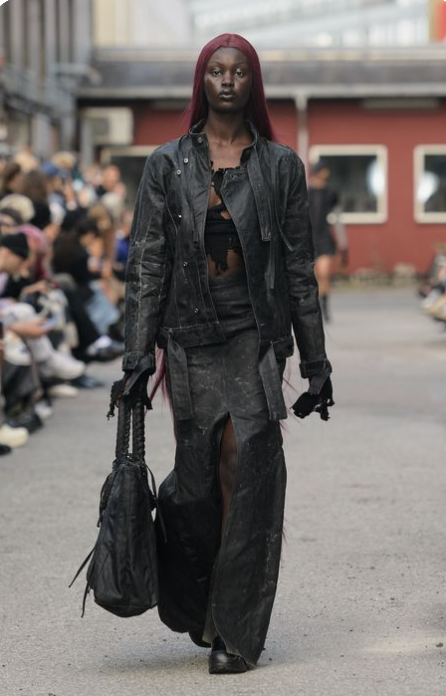 This one's all about the structure and fit. Reach for a tight, distressed black or gray denim skirt with a slit somewhere up the legs, and pair it with a lingerie bodysuit underneath. (This lace bodysuit from the Inked Shop works perfectly!) Layer an equally distressed leather jacket over top. This fit is compatible with any footwear of your choosing but I recommend a knee-high chunky boot or heel or your favorite chunky sneakers.
#6 Main Character Energy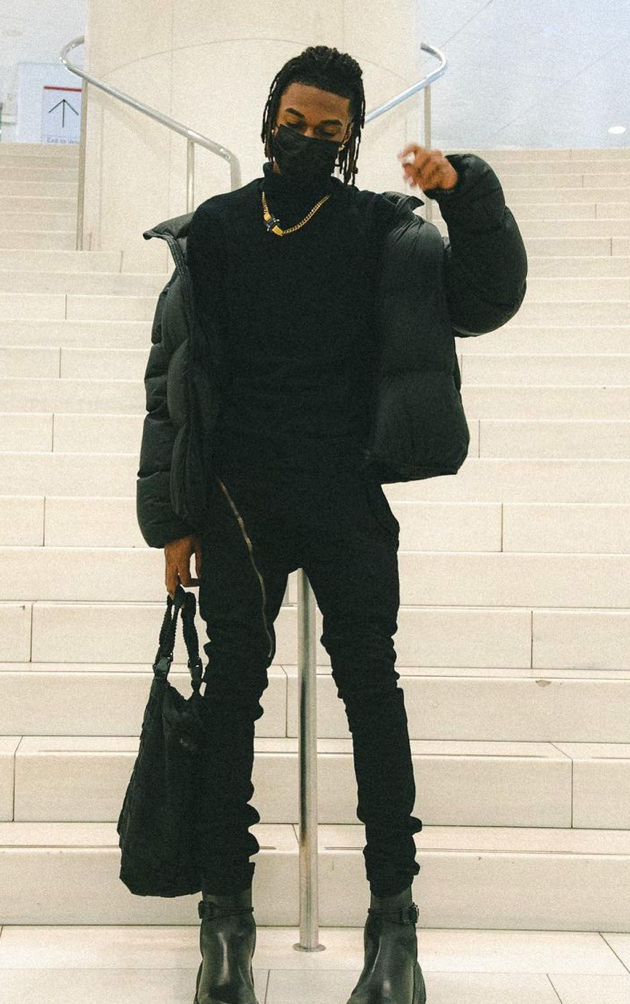 Do not be alarmed by the cropped puffer jacket! Pair your favorite black loose-fit straight-leg or skinny jeans with a turtleneck (again sleeves or no sleeves, it's up to you) and leather boots. Accessorize with as much or as little jewelry as you feel is right and grab your favorite daily bag. This fit is effortlessly chic but still maintains notes of alternative style inspiration. The puffer is optional for those chillier moments on spring days but I recommend swapping it out for a floor-length black, trench, duster or leather coat.
#5 That Girl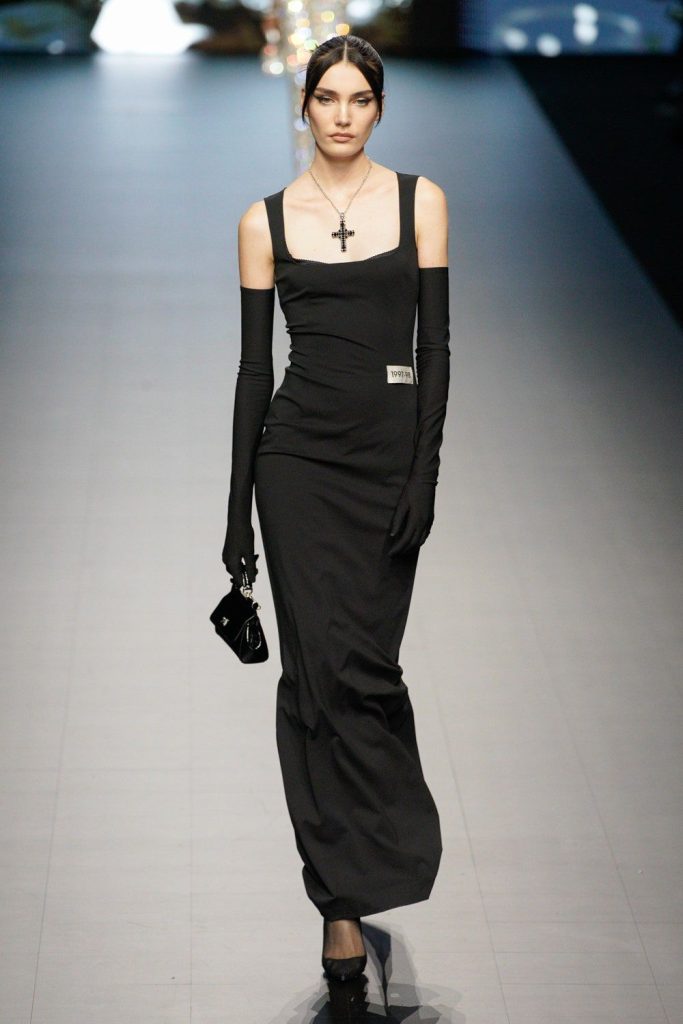 Attending a high-caliber event where you need to play dress up for the night? Have no fear, all you need to know is that this silhouette is what we want to work with to maintain that edgy, goth look. This modest but eye-catching neckline works for literally anyone and everyone and is the magnum opus of chicness. Pair any sort of black top with this neckline (if you don't already have a dress similar to this) with a pair of nice high-waisted dress pants or an equally nice skirt, and your base layer is done. Add a pair of your baddest-bitch-possible shoes and you're good. The opera gloves are a welcome addition and do not forget the singular chunky necklace!
#4 Drowning in Desire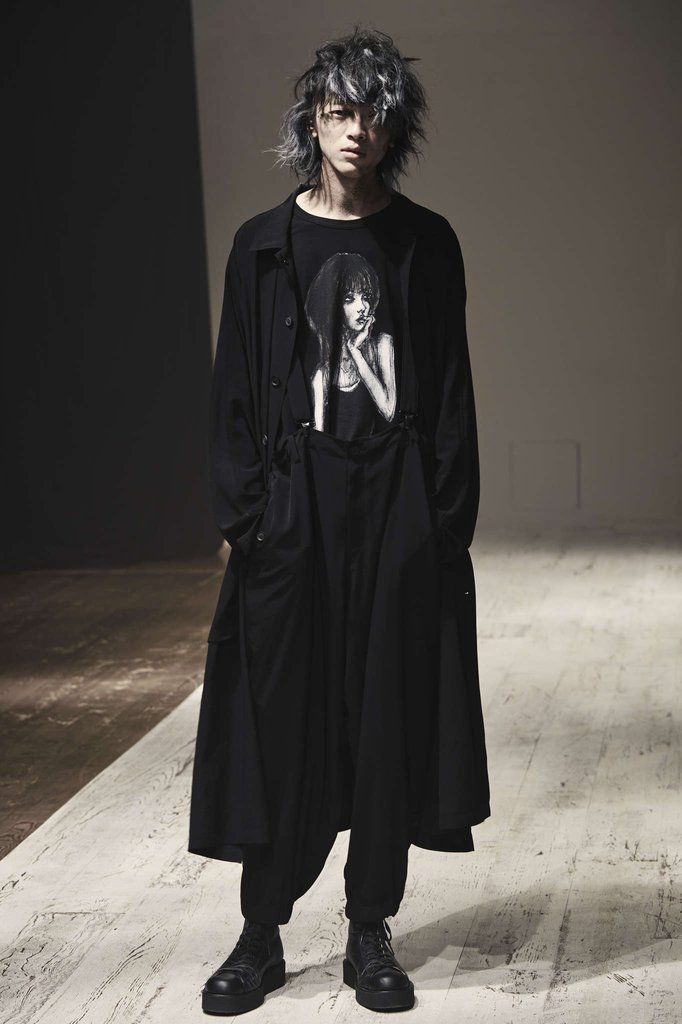 This one might be my personal favorite. For starters, pick an oversized graphic shirt of your choice, add on loose-dark overalls or baggy low-rise pants with suspenders and a long but loose-fit dark outer layer. Pair with chunky shoes that are preferably tight around the ankle and you're done. This is a lightweight alternative for your regular winter alt fit that won't leave you gasping for air and a cool drink of water this spring.
#3 Cutouts for Days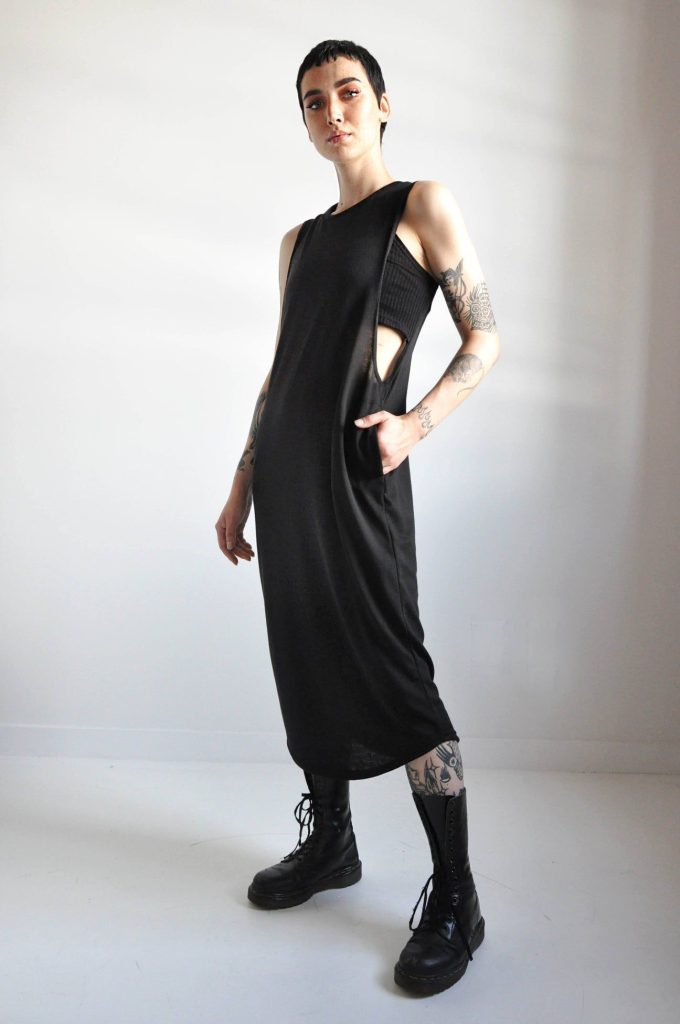 Layer a deeply sleeveless (which you can modify on your own to get the desired effect) shift dress over a black bandeau or crop top of your choice and pair it with any shoes that come up to mid-calf. Simple, effortless, chic and iconic.
#2 Exercise *Enthusiast*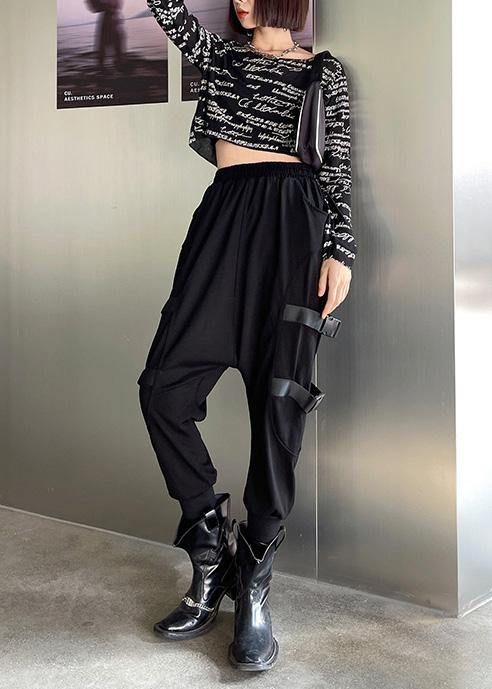 Pair any sort of cropped long-sleeve over a pair of enriched joggers and add your favorite pair of lacy chunky boots underneath and you're done! Simple enough.
#1 Corporate Chic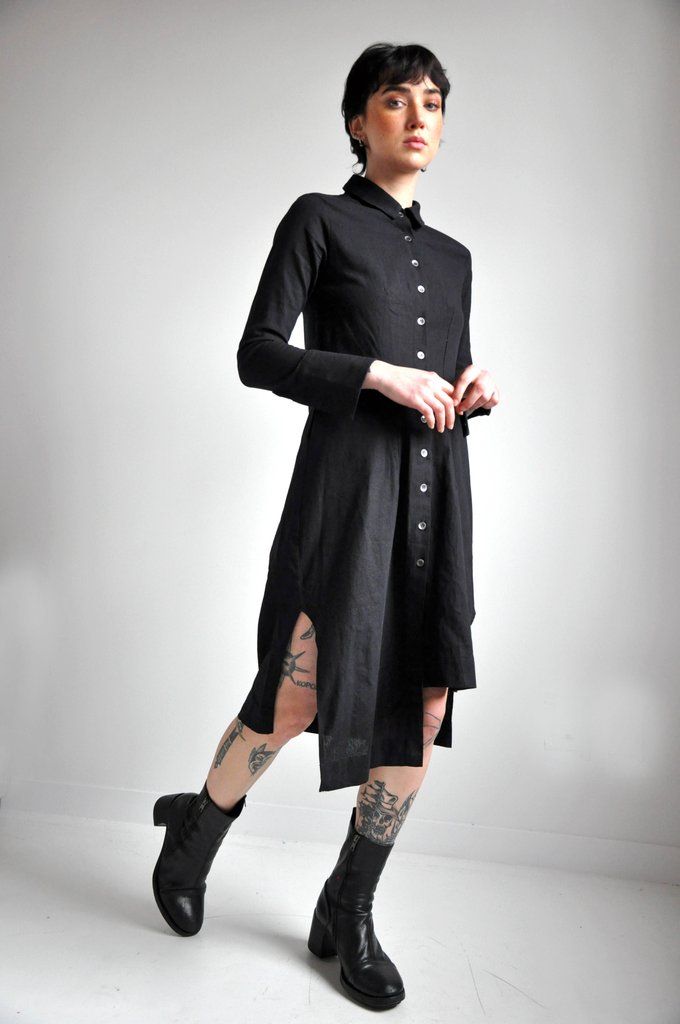 Forced to be in a professional setting all day? Don't worry, any sort of adorable button-up long-sleeve moment like this will keep you chill and fashionable without compromising your alternative sensibilities. Pair with a low-heeled bootie and you're all set.
Hopefully, there was some outfit inspiration in here to mitigate the seasonal outfit stress that often comes with the changing months. You can find lots of alt-friendly lookes at the Inked Shop! Remember, the way you dress should merely be the external expression of who you are on the inside, and you should never have to compromise that for any reason as simple as the shift in season.