For the past 10 years, "American Horror Story" has been finding new ways to enthrall, enchant and yes, terrify television audiences. The brainchild of Ryan Murphy and Brad Falchuk (who'd previously collaborated together on "Glee"), each season of the show is presented as it's own self-contained miniseries, with familiar actors returning season after season to portray brand new characters. The themes of the series have run the gamut, beginning with the ghost-packed Murder House of season one then going on to explore a corrupted asylum in the 1960s, a coven of witches, a freakshow in the 1950s, a vampire infested hotel, the lost colony of Roanoke, the 2016 Presidential election, an apocalypse and most recently, a 1984 summer camp.
Each season of the show has been teased through artfully crafted campaigns and have premiered in either September or October of a given year. This was obviously not the case for 2020, as the COVID-19 pandemic put a halt on production for the 10th season of the show until filming was resumed in the Fall. The season will premiere at some point in 2021, although the exact date has yet to be announced. What we do know is that Ryan Murphy has begun to drop clues about the theme of the season and fans have already started speculating.
Based on the material that Murphy has released thus far, there are two major clues we can start investigating. The biggest clue is Provincetown, Massachusetts. Murphy first shared a photo of a beach in Provincetown back in May, 2020, writing "American Horror Story. Clue" in the post's caption. This New England town is known for it's thriving LGBTQ+ community, which has been a central theme in many of Murphy's stories.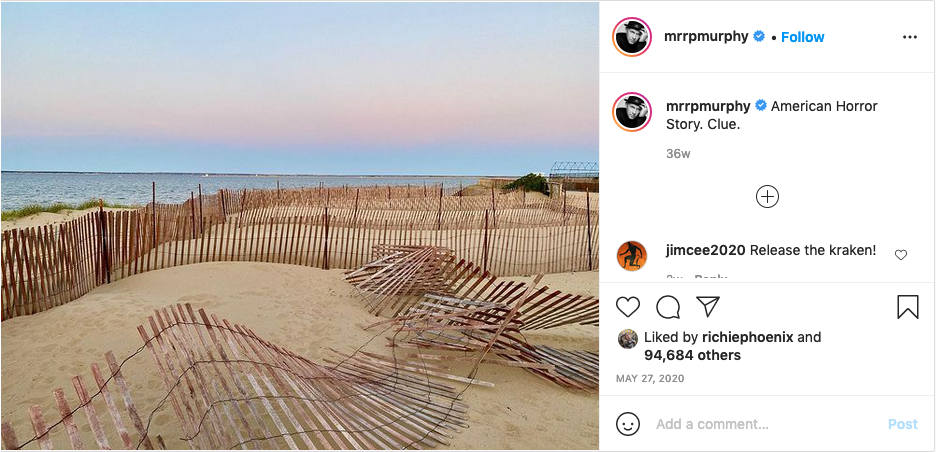 Then in August, when the new season of "American Horror Story" would be on the precipice of airing under normal circumstances, Murphy posted another clue to his Instagram in the form of a set of pointy teeth. Many fans have speculated that with these teeth and the season's beach setting could mean that the theme could revolve around aquatic creatures, specifically mermaids or sharks.
One word that's also been thrown around for season 10 is Pilgrim. A pilgrim theme would also align with the setting of Provincetown and one of the season's confirmed shooting locations, the Pilgrim Monument. Provincetown is known as the first landing place of the pilgrims, thus we can't rule this clue out yet.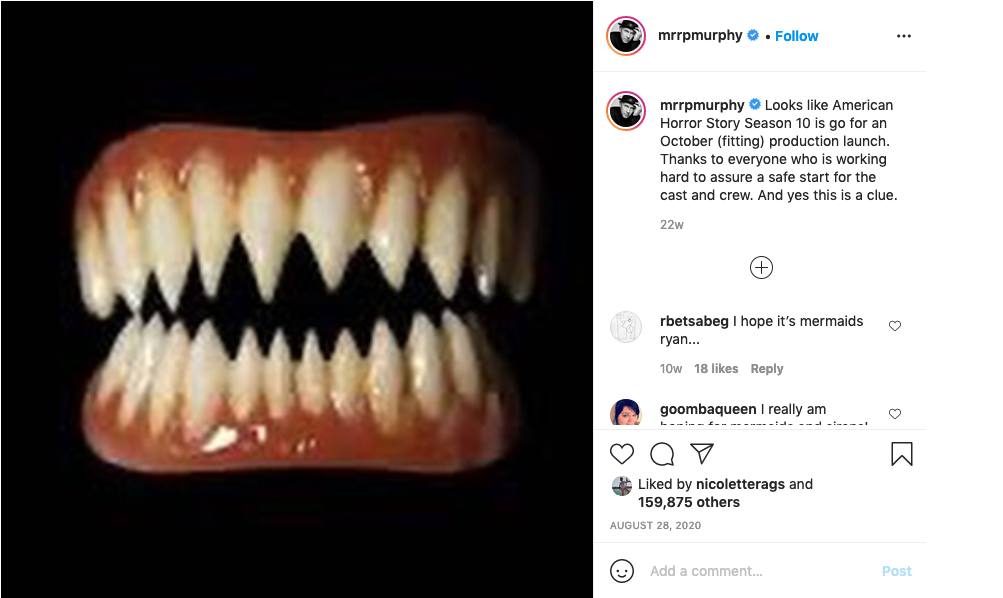 By November, Murphy released the official promotional photo for season 10, which featured a mouth with those same spiky teeth and a tongue tattoo reading "AHS10." And while we'd love to see a season of the show revolve around tattooing, it's likely that this part of the poster is just for shock and awe. In the past, "American Horror Story" posters have been very vague, never truly giving away the theme of the season, just sparking your interest to learn more. It is important to note that in both Murphy's Instagram post and his Tweet, Provincetown was tagged, further connecting the town to the season.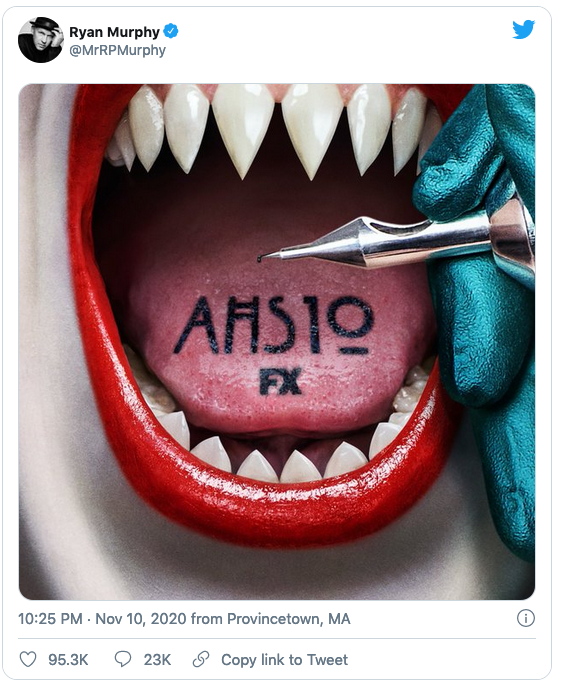 Several fan pages for the show have started to fill in the gaps, as actors have been confirmed to appear in the season. Thus far, Sarah Paulson, Billie Lorde, Angelica Ross, Leslie Grossman, Kathy Bates, Adina Porter, Lily Rabe, Spencer Novich, Finn Wittrock and Evan Peters are slated to appear. Paulson revealed that her character is going to have some issues, a hair color she hasn't worn on the show and a great name. Angelica Ross has revealed that the season will be very creepy, scary and get bloody very quickly. This season will also bring a few exciting newcomers to the show, including Macaulay Culkin and Ryan Kiera Armstrong. Fans have also suspected that "RuPaul's Drag Race" contestant Miss Fame may be part of the season, as Ryan Murphy recently followed her on Instagram.
Stay tuned for more updates on "American Horror Story" season 10 and let us know your favorite season of the show in the comments section on social media.