Can you smell the pumpkin and nutmeg in the air? That's right, Halloween is just around the corner and it's time to finally start planning all the glory and gore you want to feature at your seasonally appropriate costume parties. While candy and sweet treats are a staple during Halloween time, October is also the perfect month to whip out your fall recipe repertoire. Aside from creep-tastic decor and killer costumes, everyone is always vying for something a little sweeter during Halloween time. So why not treat them to something seasonally appropriate and horrifyingly adorable?
We've curated 6 beginner friendly Halloween treat recipes for your tasting pleasure. Happy baking!
Pumpkin Hand Pies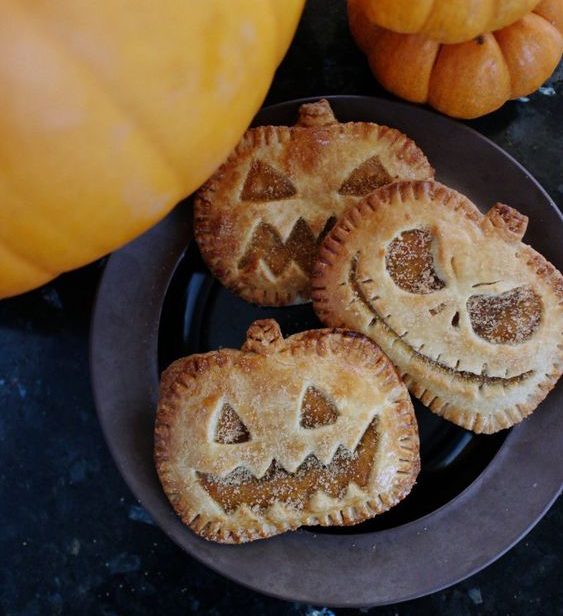 Ingredients
3 3/4 c. all-purpose flour
3 tbsp. granulated sugar
1 1/2 tsp. plus 1/4 tsp. kosher salt
1 1/2 c. (3 sticks) unsalted butter
3 tbsp. white vinegar
3 tbsp. ice-cold water
1 15-oz. can pumpkin puree
1/4 c. packed dark brown sugar
3/4 tsp. ground cinnamon
1/2 tsp. ground ginger
1/4 tsp. ground allspice
1/4 tsp. ground nutmeg
1/2 tsp. pure vanilla extract
4 oz. cream cheese, cut into small pieces
2 large egg yolks
1 beaten egg, for brushing
Directions
STEP 1
In a food processor, combine the flour, granulated sugar and 1 1/2 teaspoon salt. (If your food processor is a 7-cup or smaller, remove half of the mixture and make the dough in two batches.) Pulse in the butter until the mixture resembles coarse crumbs.
STEP 2
Add the vinegar and cold water, pulsing until the dough is crumbly but holds together when squeezed (add additional water 1 teaspoon at a time, if necessary). Do not over mix. Shape the dough into three 1-inch-thick disks, cover tightly in plastic wrap and refrigerate until firm, at least 1 hour and up to 2 days.
STEP 3
Meanwhile, make the filling: In a small saucepan, whisk together the pumpkin, brown sugar, spices and the remaining 1/4 teaspoon salt. Cook over medium-heat, stirring occasionally, to cook out the moisture, 6 to 8 minutes. Remove from heat, mix in the vanilla and cream cheese until fully incorporated, then mix in the egg yolks. Transfer to a bowl and let cool.
STEP 4
Heat oven to 375 degrees F. Working one disk at a time, on a lightly floured surface, roll the disks to 1/8-inch-thick. Cut out twenty-eight 3 1/2-inch pumpkin shapes, transferring them to the refrigerator as you work. Cut 3 vertical slits in half of the cutouts as shown (these will be the tops of the pies).
STEP 5
Place 7 "bottoms" on a parchment-lined baking sheet. Place 2 tablespoon of the pumpkin mixture onto each bottom, leaving a 1/2-inch border around the edges. Lightly brush the border with egg. Sandwich the filling with the scored pumpkin cutouts and press the edges with a fork to seal. Repeat with the remaining cutouts and pumpkin mixture.
STEP 6
Brush the tops of the hand pies with the remaining egg. Bake until golden brown, 23 to 25 minutes.
Chocolate Skull Cookies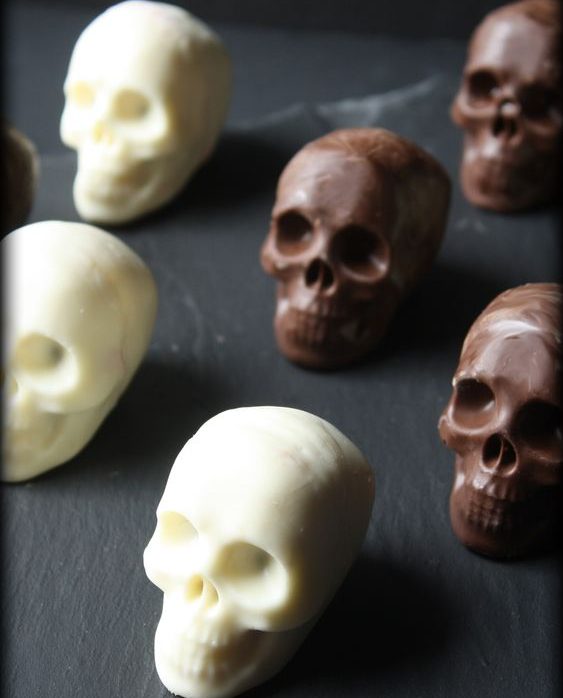 Ingredients
1 c. white chocolate chips
6 chocolate sandwich cookies (such as Oreos)
3tbsp. bittersweet chocolate chips
Directions
STEP 1
In a microwave-safe bowl, melt the white chocolate on high, stirring every 30 seconds, until smooth, about 1 minute.
STEP 2
Spoon 1 Tbsp white chocolate into each of the 6 skull-shaped cavities of the mold. Gently tap the mold to break any air bubbles. Place 1 cookie in each mold, gently pressing down so the chocolate rises and covers the sides of each cookie. Top each cookie with 1 Tbsp white chocolate and, using the back of a spoon, spread it evenly over the cookie to cover. Refrigerate for 20 minutes.
STEP 3
In a microwave-safe bowl, melt the bittersweet chocolate on high, stirring every 15 seconds, until smooth, about 30 seconds. Carefully pop the skulls out of the mold and arrange faceup.
STEP 4
Dip a wooden pick into the melted bittersweet chocolate so that it's generously coated and use it to drop the chocolate into the eye and nose cavities. Let stand until set, about 10 minutes.
Spooky S'mores Dip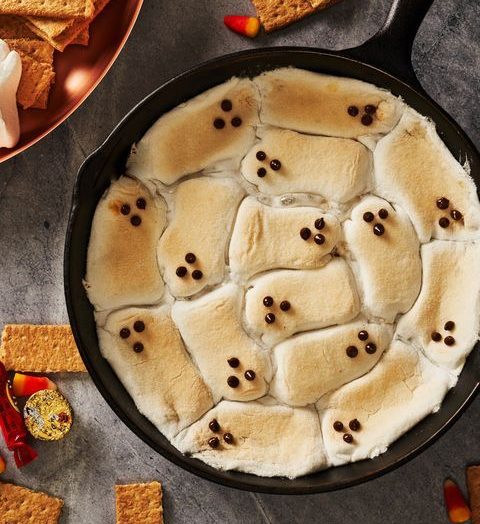 Ingredients
1 bag ghost marshmallows (or 4 packages ghost Peeps)
2 c. semi-sweet chocolate chips
1/4 c. heavy cream, warmed
Graham crackers, for serving
Mini chocolate chips, for ghost eyes
Directions
STEP 1
Preheat oven to 450°. In the bottom of a 9″ oven-proof skillet, baking dish, or pie dish, spread out chocolate chips and pour cream on top. Cover completely with a single layer of ghost marshmallows.
STEP 2
Place mini chocolate chips over eyes and mouth. (The already-drawn faces will fade in the oven.)
STEP 3
Bake until the chocolate has melted and the ghosts are golden, 8 to 10 minutes.
STEP 4
Serve warm with graham crackers for dipping.
Ouija Board Cake & Planchette Cookies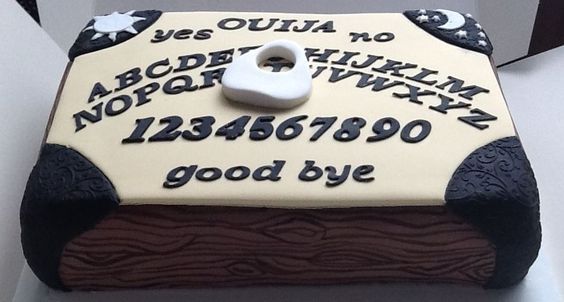 Ingredients
FOR THE CAKE
1 box devil's food cake mix, plus ingredients called for on box
1 c. mini chocolate chips
FOR THE SUGAR COOKIE PLANCHETTE
1 tube refrigerated sugar cookie dough
1/4 c. all-purpose flour
FOR THE FROSTING
1 stick softened butter
4 c. powdered sugar
1/4 c. milk
1/4 c. Caramel
1/2 tsp. kosher salt
Directions
STEP 1
Preheat the oven to 350°. Store the frosting sheet in the fridge—flat, so it doesn't bend or crease—until you're ready to apply it.
STEP 2
Make the Sheet Cake: Grease and flour a 12″-x-17″ baking sheet with edges or jelly roll pan. In a large mixing bowl, prepare cake mix according to package instructions, using hot water in place of regular water (this helps make the cocoa powder bloom, increasing the flavor). Once the batter is combined, fold in chocolate chips and pour in an even layer on the baking sheet. Bake according to package instructions, or until a toothpick inserted into the center of the cake comes out clean. Set aside to cool.
STEP 3
Make the Sugar Cookie Planchettes: Combine cookie dough and flour in a large bowl, using your hands to combine. (This helps the cookies hold their shape, so they won't spread when baked.) Roll out the dough and cut it into triangular shapes with a hole in the center, like the planchette that's used to point to the letters on a Ouija board. Place cookies on a parchment-lined baking sheet. Bake for 10 minutes, or until lightly golden. Set aside to cool. (Note: You can also wait until the cookies have cooled and hardened to carve out a circle using a knife, like we did in the video.)
STEP 4
Make the Caramel Frosting: In a large bowl or stand mixer, beat butter until light and fluffy, about 2 minutes. Add powdered sugar, beating on the lowest speed until combined, then beat in milk, caramel, and salt. Pour caramel frosting on top of cake, using a butter knife to smooth into an even layer.
STEP 5
Carefully peel printed frosting from its parchment backing. You may need to loosely drape it over a rolling pin to keep it from getting bunched up. (Or have a friend help you unpeel it and hold it straight.) Gently place it on top of the cake, centered, and use your hand to pat it down gently. Give it a few minutes to set, then serve with the sugar cookie planchettes.
Meringue Ghosts & Pumpkins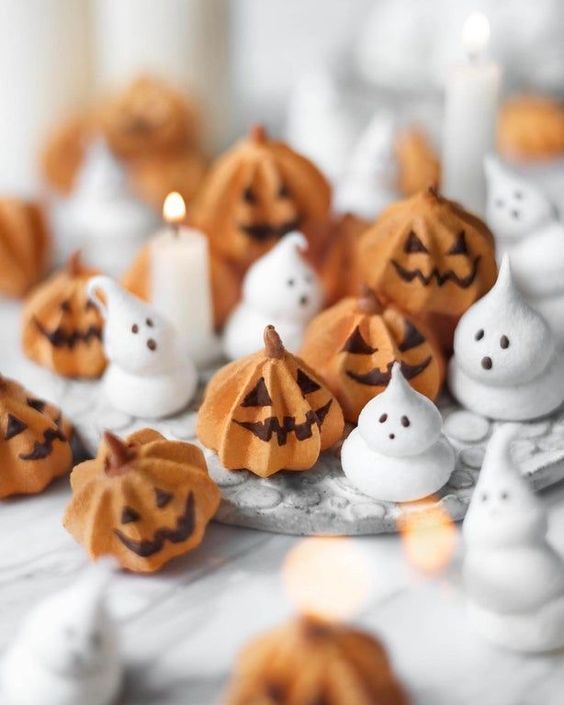 Ingredients
4 large egg whites
1/4 tsp. cream of tartar
1 pinch salt
1 c. sugar
1 tsp. vanilla
Orange food coloring gel
Small candy googly eyes
1/4 c. white chocolate, melted
Black food-safe marker
Directions
STEP 1
Preheat oven to 200°F and line two baking sheets with parchment paper.
STEP 2
Add egg whites, cream of tartar, and salt to the bowl of a stand mixer fitted with the whisk attachment. Begin mixing on low speed and gradually increase to high speed. When egg whites begin frothing up, slowly add sugar, one spoonful at a time. Beat in vanilla. Whip on high speed until mixture is glossy and can hold stiff peaks.
STEP 3
Transfer half of the meringue mixture to a piping bag with a round tip. Pipe three rows of four meringues about 1-2 inches apart on one baking sheet.
STEP 4
Add orange food coloring to the remaining meringue mixture and repeat, piping three rows of four on the second baking sheet.
STEP 5
Bake meringues for 1 hour. Turn off oven, and let baking sheets sit inside the closed oven for 1 more hour. Remove from oven, and cool completely.
STEP 6
To make the ghost meringues, attach googly eyes to white meringues with a small dab of melted white chocolate. To make the pumpkin meringues, use a black food coloring marker to draw eyes and a mouth.
Rosemary-Pumpkin Seed Brittle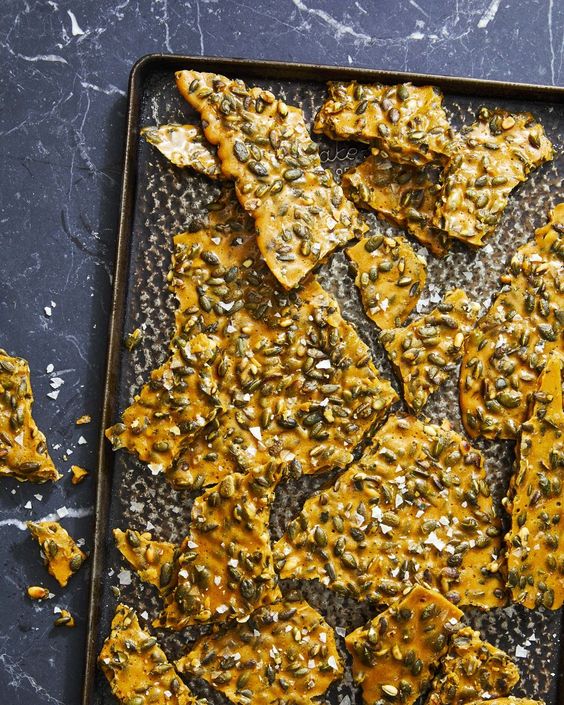 Ingredients
2 c. granulated sugar
1/2 c. (1 stick) unsalted butter, sliced
1/3 c. golden syrup
1/2 tsp. baking soda
2 1/2 c. roasted, salted pepitas
1 tbsp. chopped fresh rosemary
1/4 tsp. freshly ground black pepper
Large-flake sea salt (such as Maldon)
Directions
STEP 1
Line a rimmed baking sheet with parchment paper. Combine sugar, 1/2 cup water, butter, and golden syrup in a large saucepan. Bring to a boil over medium-high heat. Cook, without stirring, until caramel is light brown and registers 300°F on a candy thermometer, 10 to 15 minutes.

STEP 2
Remove from heat and carefully stir in baking soda (mixture will bubble up). Quickly stir in pepitas, rosemary, and pepper. Immediately scrape brittle onto prepared baking sheet and spread into a thin, even layer. Sprinkle with salt. Cool completely, 35 to 45 minutes. Break into pieces.
Happy Haunting, Rebel Circus <3