Halloween is upon us and now more than ever, we want to deck out our crypts to keep our spirits high. However, Halloween decorations are outrageously expensive and typically very poor quality. Luckily, there are plenty of ways to make super cheap and totally original Halloween decorations from home. Take a look at 10 of our favorite decoration ideas from some of the craftiest blogs on the web, then let us know if we've inspired you to DIY in the comments section on social media.
Gothic Candelabra
Use pool noodles, black spray paint, tea lights and some spooky decor to make a creepy candelabra at home.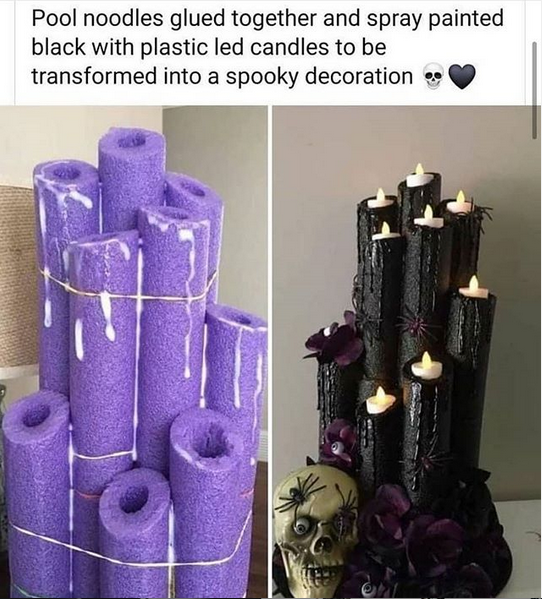 Monster House
Cut cardboard into the shape of a fang-filled mouth, create some nasty teeth using spray paint and give your doorway a fearsome grin.

Bloody Candles
Use a lighter to melt a red crayon over a candle and voila, bleeding candles.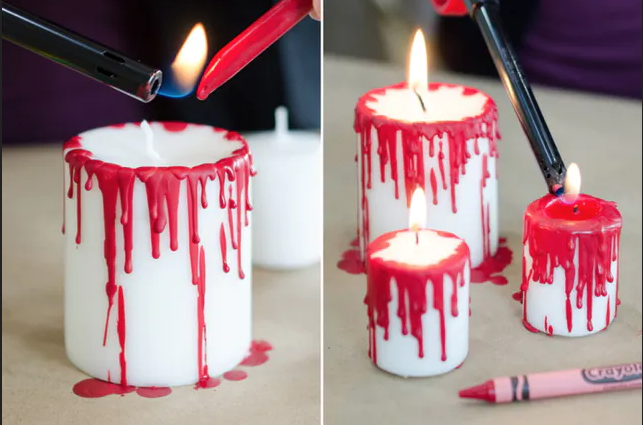 Boo-tiful Witches
Make use of your used plastic bags by covering them in black tulle, skewering them with a wooden stake and topping them off with a classic witch hat.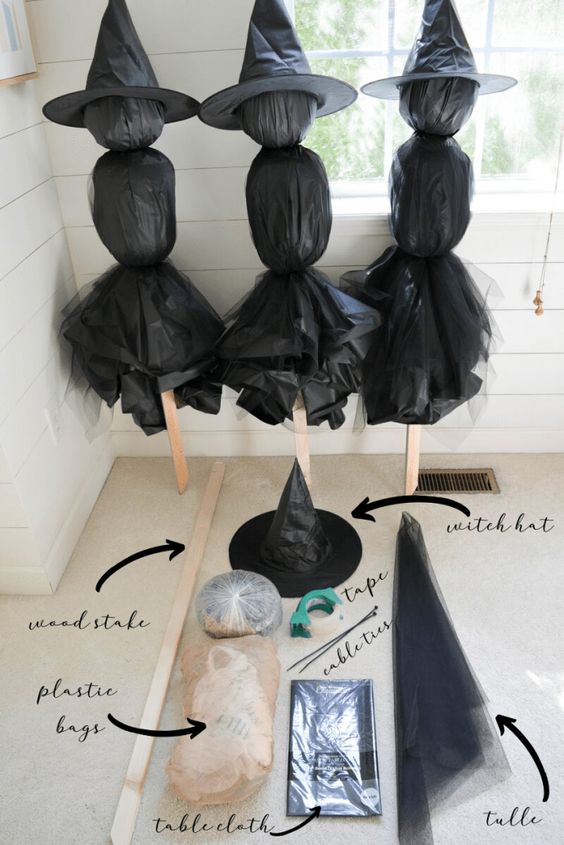 Black Cat Pumpkins
Grab a bunch of pumpkins of varying sizes (for one cat, you'll need one large, one medium and two small) and spray paint them black. Then, carve out the eyes of the middle pumpkin and assemble your black cat (superglue can help it stay together). Add some ears using black construction paper and put a faux candle or Christmas lights into the pumpkins to make the eyes glow.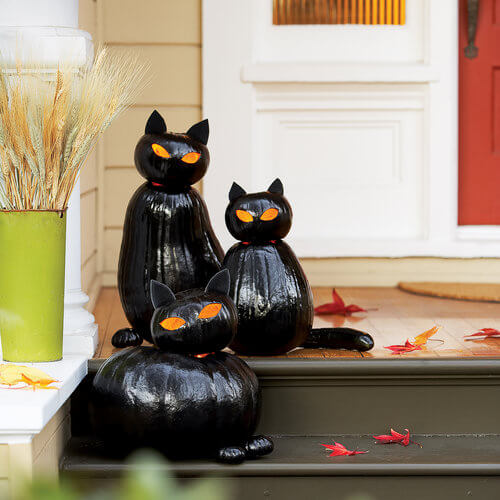 Spooky Cool Wreath
Create a custom door wreath with a spider web bowl (this one's from the Dollar Store) and simply hot glue on some faux flowers, leaves, as well as your favorite creepy crawlers.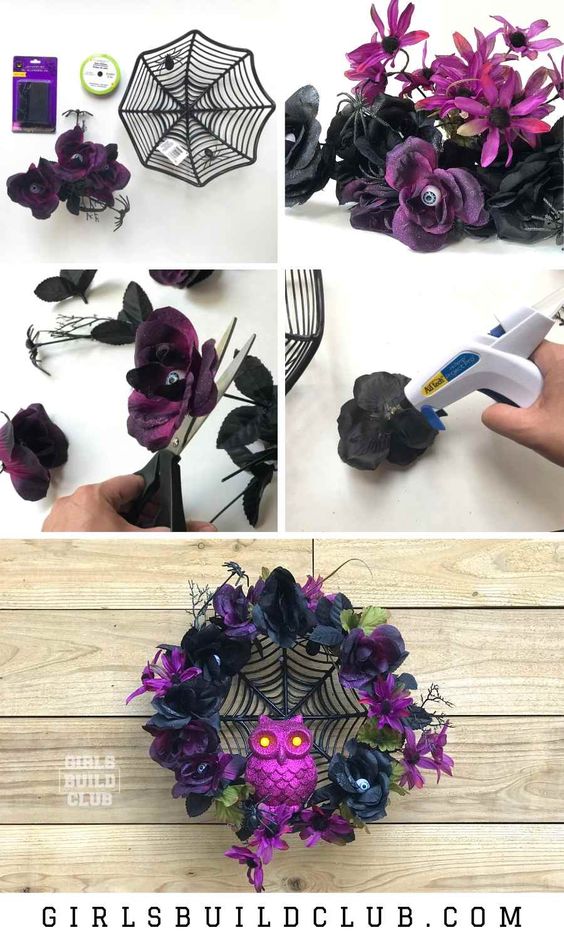 Fantasy Floating Candles
Grab some fake candles and mask off the faux flame part with tape. Spray paint them (Rust-oleum opted for matte black and a vintage gold ombre) and then once they're dry, hot glue them to fishing wire and hang them up.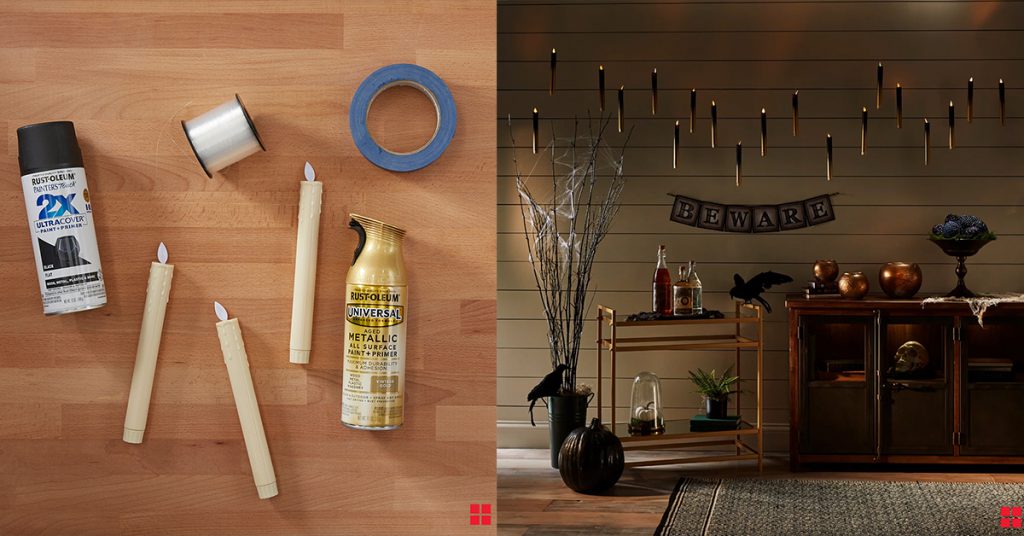 Haunted Hand Punch
Fill a food safe glove with water or punch, then tie it off and put it in the freezer. Once it's fully solid, add it to your Halloween punch for a spooky surprise.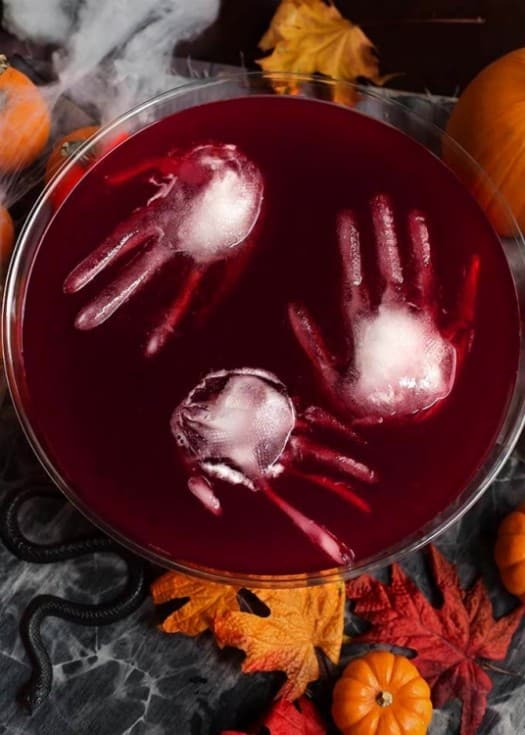 Mystical Mason Jars
Print out a few simple Halloween stencils and put them inside a mason jar. Outline your design with a Sharpie then fill it in with a black paint pen. Fill jar with Christmas lights and faux spider webs.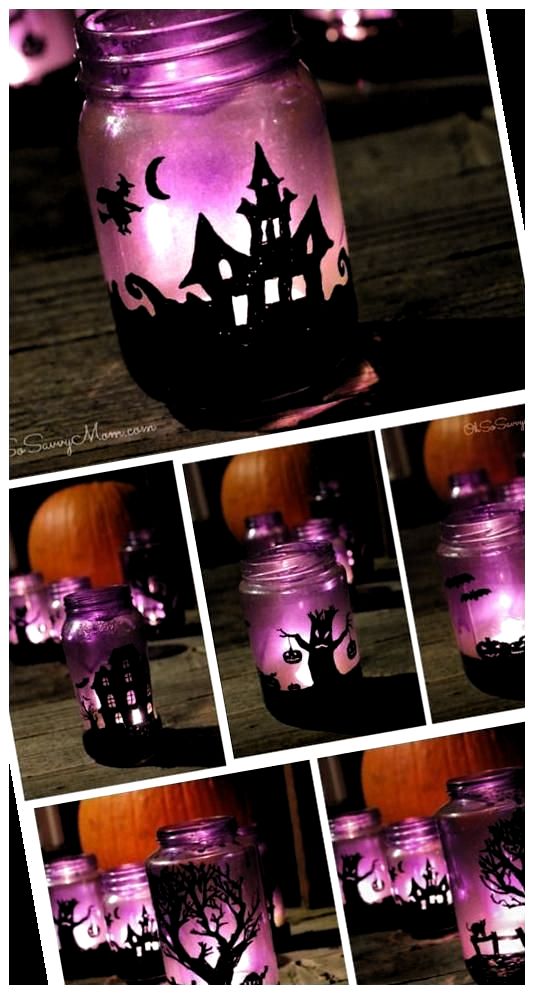 Floating Witch Hats
String up some cheap witch hats with fishing wire and attach an LED stick on the inside of the hats via hot glue or a safety pin.